D-Day's Last Heroes: In Their Own Words
Veterans of D-Day give their accounts of one of the single greatest military operations the world has ever seen. This updated 70th anniversary edition contains compelling interviews with some of the remaining survivors, with film and BBC radio archive from D-Day itself.
Google users can download the app from the Play store.
FAQs about the interactive book trial
To coincide with the television broadcast, the BBC has published a free interactive ebook featuring extra unseen and uncut interviews with some of the final remaining survivors of D-Day. D-Day's Last Heroes. This interactive ebook is a downloadable format containing over 40 videos and text that is being trialled by the BBC as a new way of presenting content.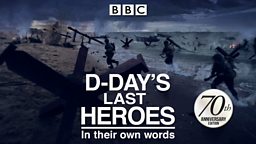 More BBC ebooks
Compare diary accounts of the pioneering 1869 expedition with our modern day recreation.

Can you guess an animal from its bones? Test your skills by exploring five very different skeletons.

Featuring specially curated video clips of some of the best moments from the Horizon archives.