Driving - Learning To Drive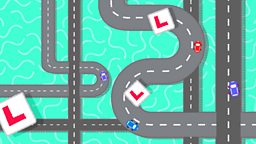 Thinking of learning to drive? Get all the ins and outs of when and how you can take to the road.
You have to pass your theory test before you book your practical test
When can I drive?
The minimum ages for driving on British roads are:
16 for mopeds
17 for tractors, small vehicles (most cars) and motorbikes
21 for medium/large sized vehicles, minibuses and buses
Getting started
Before you can get in the driver's seat, you need a provisional driving licence. You can't use this until you're 17, but you can apply for it up to three months before your 17th birthday.
You can apply for a provisional driving licence from the Driver and Vehicle Licensing Agency (DVLA). You can get an application form (form D1) from the Post Office. You'll have to pay for the licence.
Then you have to find a driving instructor. In theory you can get anyone over 21 to teach you to drive, but in reality they probably wouldn't have the experience or training to do it properly.
Find the local Approved Driving Instructors (ADI) or driving schools for the most reputable places.
While you're learning you have to display L plates (L or D plates in Wales) on the front and back of any car you drive.
The theory test
You have to pass your theory test before you book your practical test.
You can book a theory test online at gov.uk.
You can take an official practice test at the same place.
The practical test
The practical test consists of an eyesight check, some vehicle safety questions, and a 40-ish minute driving test, which will include specific manoeuvres.
You can make up to 15 minor driving faults and still pass the test (16 or more and you fail).
Make one serious or dangerous fault and you'll fail.
Most people don't pass first time, so don't get too upset if you fail (although you do have to pay for each test). If you do fail, you can take another test 10 working days later.
BBC Advice factfiles are here to help young people with a broad range of issues. They're based on advice from medical professionals, government bodies, charities and other relevant groups. Follow the links for more advice from these organisations.