Get reading with friends!
Why not start your own Book Club and get your friends involved?
Here at the Radio 2 Book Club, we love to share great books. On this page you will find some tips to help start your own book group, so you can discuss some of our titles with friends.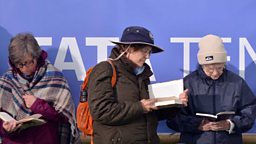 Below you can click the links to print off an invite for your own Book Club and also a sheet that you can all work from, to help focus your discussion.
You will also find links to some quick and easy recipes, to help you host a perfect party.
Get your friends involved and get reading!
Make sure you're all on the same page!
Get your guests to fill out this form before you talk about your book choice, that way you'll have a structure for your discussion.
Quick Recipes
Treat your fellow bookworms to some delicious food, without putting in too much effort.