Competition: RSVP to Shazia and Amjad's Wedding!
Mr Khan cordially invites you to attend the wedding of Shazia and Amjad on Thursday 4th September 2014 (see terms and conditions for full details).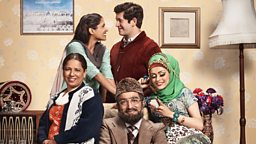 For your chance to win a seat for you and up to 3 members of your family & friends at the reception, you need to send a 30-second congratulatory video message for the happy couple to KhanWedding@bbc.co.uk by midnight on Monday 25th August 2014.
What could you win?
One lucky person will receive return travel for themselves and up to 3 other people aged 13 and above on Thursday 4th September 2014 to become part of the wedding episode. You will be filmed as part of the wedding party, and the BBC will make an online exclusive video about your time on set meeting the Khans, as well as feature you in Shazia and Amjad's wedding album on the BBC website and on social media.
Please note that all people under the age of 16 will also need the permission of their head teacher to attend filming on Thursday 4th September 2014.
Mr Khan will be making the final decision. He will be looking for true fans with lots of background knowledge of the Khan family, as well as creative flair and comedy value. For full competition details, please read our terms and conditions.
Good luck Khan Fans!