Mammoth tooth
Here is a mammoth tooth that the owner's father dug up in the garden.
The fossilised mammoth tooth does not look like much from the top, but it is absolutely beautiful. In the past, craftsmen have sliced such examples up and used them to create a casing for a decorative box, which ends up looking like agate.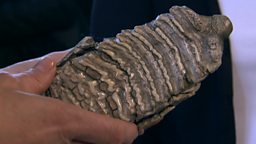 The mammoth's tooth would be sought-after by collectors who may pay up to £1,000 to acquire it.
Did you know? Most woolly mammoths became extinct at the end of the Ice Age 10,000 years ago, but some survived in Wrangel Island, off the coast of Siberia, until 1700 B.C.
Get the app that lets you join in by guessing the values of items featured in the show.