Doctors welcomes back Sarah Moyle as eccentric receptionist Valerie Pitman!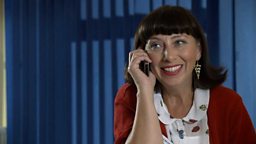 We catch up with Sarah in this short interview
What brought Valerie back to Letherbridge?
I'm fortunate enough to be asked back because receptionist numbers have gone down with the absence of Karen. She's had a nasty accident so I've been asked back to fill in on the desk. I'm coming back as a slightly different Valerie, last time we saw her she was needy, lonely and looking for love and this time she's in a long term relationship.
Tell us more.
It's Ashley, who we met last Christmas and is part of the patient liaison group. They met, it was love at first sight, and they've been together ever since!
Do we see much of you together?
We get a glimpse into the Ashley/Valerie love fest – imagine that! Things don't go according to plan but I won't spoil that for you!
We hear that there is a Panto on the horizon.
Valerie is absolutely thrilled, and Sarah Moyle as actress could not be more thrilled with this story line! Valerie gets to play Cinderella which is a dream come true for Valerie and me! There's a lot of work involved in the lead up to the Panto with Heston giving master classes in voice, acting and presentation which I absolutely adored.
Does it all go smoothly?
Well, I literally kick the bucket. I fall over a bucket on stage and trip with the line "Oh this is just like Judi Dench in Cats".
How is it being back in Letherbridge?
It has been absolutely glorious. It's been like coming back into a family. Having had time away and coming back to spend all this time with all these gorgeous people – what could be better?
Sarah appears back on the screen from 21st November.
Doctors Notes
Interviews, musings and other extras from Doctors.
We caught up with the actor and director to talk about directing for a fourth time...

Matthew discusses the challenges of directing Doctors for the third time!

Series Producer and Writer Peter Eryl Lloyd gives an account of the writing challenges behind Doctors' special two parter: 'Austenland'.

Actor Janet Dibley who played Elaine Cassidy in Doctors for two years has just written her first episode!

Doctors Series producer Peter Lloyd's final instalment explains the process behind creating a truly great character.

Doctors Series Producer Peter Lloyd explains the inspiration behind the character names in Doctors.

The musings of Doctors Series Producer on the perils of finding the best actor for the role.

Doctors Series Producer Peter Lloyd mourns the departure of some of his favourite Doctors actors.