Online Extras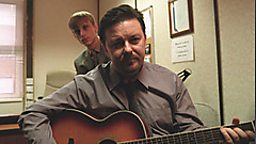 To celebrate the tenth anniversary of The Office, here is an exclusive selection of online extras featuring Ricky Gervais, Stephen Merchant, and the rest of the team.
Browse through our tenth anniversary online extras to the right and below, where you can find an interview with the comedy duo Ricky Gervais and Stephen Merchant and downloadable guides on how to make paper planes out of David Brent's face...why wouldn't you? There's also an interview with David Brent himself and exclusive instructions on how to play his greatest composition, "Freelove Freeway".
Tenth Anniversary Online Extras
A glimpse into the minds of the comic writing-duo with questions from the audience

High-flying manager, David Brent, is interviewed by Talent Spotters, Cooper and Webb.