The Reel History Bus
Alongside Melvyn Bragg, the Reel History Bus is undoubtedly going to be one of the stars of our show - and this mobile cinema has a very interesting history in its own right.
The Ministry of Technology built seven of these custom mobile cinema units in the late 1960s. Their role was to tour the country, promoting modern production techniques to British industry. Each of the Bedford vehicles was operated by the Production Engineering Research Association.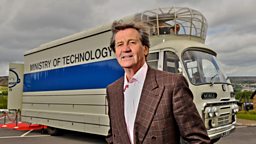 Films would be played within the cinema, with supporting displays shown in the trailer that accompanied the towing unit as they toured the nation's factories.
The Government sold off the mobile cinemas in 1974, and the model we're using during the series is, as far as is known, the sole remaining example. It was purchased at auction and donated shortly afterwards to the Transport Trust, who owned it for a further 15 years before selling it on to Peter Rawlings of Essex in November 1990.
Despite the new owner's best intentions, the unit didn't see the road again until October 2003 when it was rescued from a field by Rob Howell and Nancy-Rose Mills. But Rob and Nancy realised that restoring the mobile cinema was too big a project for a young family, so in March 2005 they sold it on to its current owner, Oliver Halls of Devon.
The restoration became a labour of love for Oliver, taking several years and enduring a number of long delays, but in the spring of 2010 the vehicle emerged and was ready for service once more.
It's now powered by a Bedford 330 diesel engine (taken from a Bedford TL), fitted with a five-speed Turner box and restored brakes. The cinema itself has been fitted out with climate control, full HD projection and high quality surround sound.
You can find out more about the vehicle, its history, restoration and current use on the official Vintage Mobile Cinema website.