The Fourth Dimension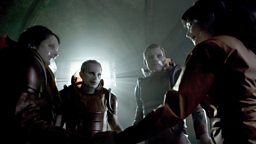 The Rebel Flesh/The Almost People
The read throughs for episodes 5 and 6 took place on Friday, 12 November, 2010.
The Rebel Flesh/The Almost People is the second Doctor Who adventure written by Matthew Graham. His first was Fear Her, the 2006 story featuring the Tenth Doctor and Rose.
Marshall Lancaster, who plays Buzzer, has previously appeared in Life on Mars and Ashes to Ashes, two BBC dramas which were co-created by Matthew Graham.
The Dusty Springfield song that features in The Rebel Flesh is called 'You Don't Have to Say You Love Me'. It's an English version of the Italian song 'Io che non vivo (senza te)' which means 'I, who can't live (without you)'.
The phrase 'reverse the polarity of the neutron flow' is most closely associated with the Third Doctor. The reference to jelly babies alludes to the Fourth Doctor, although in The Three Doctors we find that the Second Doctor also carries a bag of the sweets.
The name John Smith is mentioned in The Almost People. The Doctor has assumed this pseudonym in several stories, most notably Human Nature. We first saw him go by the alias in the 1968 adventure, The Wheel in Space.
Cybermats, mentioned by the Doctor's Ganger, are rodent-like killers created by the Cybermen. We first saw them in The Tomb of the Cybermen and most recently they appeared in Blood of the Cybermen.
Raquel Cassidy and Sarah Smart have starred opposite each other before, in the 2008 Poirot mystery, Mrs McGinty's Dead. The drama also starred Zoe Wanamaker - Cassandra in The End of the World and New Earth.
Raquel Cassidy previously appeared in the BBC drama, Party Animals. The series was critically acclaimed and co-starred Matt Smith, about three years before he became the Doctor!
The Rebel Flesh premiered on 21 May, 2011 - that's the sixth anniversary of the broadcast of The Empty Child, the first episode of Doctor Who written by Steven Moffat - aside from The Curse of Fatal Death!
The Doctor must convince terrified factory workers to work with their doppelgangers to overcome a monster of their own making.

A solar tsunami liberates doppelgangers from their human 'originals' in a futuristic factory. Can the Doctor prevent all-out civil war?