Ask Robbie Live!
Calling all Robbie fans! Ever wanted to ask Robbie a question? Well now you can.
Get Involved
Robbie will be online at 5.45pm, just after his interview with Simon Mayo.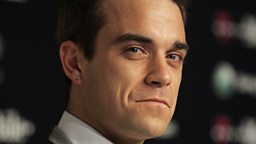 You can send your questions now, either by Text to Twitter
Text: 88291
Tweet: @bbcradio2 using the hashtag #R2Robbie
We'll answer as many questions as we can. If yours isn't answered, don't worry – from 8pm on the Radio 2 website, you can watch Robbie In Concert live from the BBC Radio Theatre.
Our production includes a special Super Fans Live Stream – where you can join other Robbie fans to share your messages and memories.
Send your Texts and Tweets to the details above – and enjoy the show in the company of Robbie fans around the world!
Find out how you can watch, listen and get involved with the day's events.