Lionel Blair Interview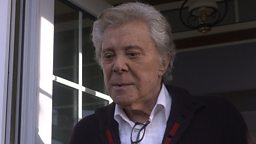 The Doctors cast are joined by showbiz legend, Lionel Blair...
Can you tell us a little about the character you play?
It's about an actor who did quite well, but his wife was really the star of the show. She died two years ago and he hasn't come to terms with her death yet. It's now affecting his mind a little - towards Alzheimer's - but he won't admit it to himself. It's rather sad, actually. He sees an old Carry On film that his wife was in and it brings back memories - and it's those memories that are making his present memories fade.
Are you enjoying playing the character?
Oh, I'm loving it, because it's not Lionel Blair, it's something very different. That's what I want to get away from - 'Lionel Blair' - to prove that I can do other things. I've done a few serious parts before and had notices saying the "surprise of the evening was Lionel Blair, acting like, well, not Lionel Blair," but after all that I still get people saying afterwards I wish you'd danced! I'm a bit fed up with that now!
What do you enjoy about acting?
Not being Lionel Blair! Quite honestly, it's being a different character that I like. That's what I want.
I don't want to get to the stage where people say "Oh he shouldn't be doing that," and in all honesty I shouldn't! The thing is, apart from my hair going grey, I still look the same. It's the instant recognition which is incredible. I've been in this business over 60 years and I've been married 46years and people still think of Lionel Blair. Some young people today have been saying "Come on Lionel," and I can't believe it - the way it crosses generations. Being contemporary is still exciting. I don't want people to say 'Oh do you remember him!'
Are you a fan of soaps?
When I was young, I don't think I ever watched soaps as avidly as I do now. I think it's just because I stay in more! It's the swearing I don't like, so I try to steer clear of that. I watch Doctors every day, I really do. I've watched it since Diane Keen was here, as I'd done a play with her. I like Doctors, but I don't think that it's given enough airtime. It should be repeated: lunchtime and tea time. There's not just one story going through. There are a few stories, which make it interesting. When a character gets a good storyline you really want to follow it through.
How did you get started?
I started out as a boy actor and did Shakespeare in Stratford-upon-Avon. I wanted to be an actor. I didn't want to be a dancer, but my dad died and unfortunately I was the breadwinner. I got into a musical and it was steadier work for me. So I stayed dancing and then television came along - and it wasn't the Lionel Blair dancers, it was Lionel Blair and his dancers. Judy Cornwell, who you had on here recently, actually used to be one of my dancers! I feel blessed that I've had these wonderful memories.
Any tips for young performers?
My advice is, keep working and never turn anything down - as one thing always leads to another. I've done something where I thought "Oh, I don't want to do this," but I've always got something else from it; another musical, another play, or something that was unusual for me. I like having a go at everything.
Don't stick to one thing. I know there are a lot of dancers who stick to that as that's all they want to do, and that's fine if that's all they're interested in, but there becomes a check-out point. So I want to still do things, I want people to say "Oh, did you see Lionel Blair in Doctors? Look how different he is…" and then films or something like that might happen through it.
Doctors Notes
Interviews, musings and other extras from Doctors.
Find out about Christine's latest appearance Letherbridge in an exclusive interview.

What does David think the future holds for Barry after being jilted at the altar?

He plays fast talking Dr Sid Vere, but how will he fare against our quick fire round?

Is Ian as quick witted as his character Al, find out with his quick fire questions!

Let's see how The Mills' midwife handles the 'quick delivery' of these questions!

The Mills newest resident answers some tough quick fire questions!

We talked to Peter Lloyd, Series Producer, to get the low-down on today's shocking developments.

We caught up with the actor and director to talk about directing for a fourth time...

Matthew discusses the challenges of directing Doctors for the third time!

Series Producer and Writer Peter Eryl Lloyd gives an account of the writing challenges behind Doctors' special two parter: 'Austenland'.

Actor Janet Dibley who played Elaine Cassidy in Doctors for two years has just written her first episode!

Doctors Series producer Peter Lloyd's final instalment explains the process behind creating a truly great character.

Doctors Series Producer Peter Lloyd explains the inspiration behind the character names in Doctors.

The musings of Doctors Series Producer on the perils of finding the best actor for the role.

Doctors Series Producer Peter Lloyd mourns the departure of some of his favourite Doctors actors.