Weather Watchers: Libraries helping to Make it Digital
By Bill Thompson, Partnerships Lead
Make it Digital is the BBC's initiative to release people's digital creativity, and last year it teamed up with BBC Weather to launch Weather Watchers, creating a way to let you upload photos and weather information and see the connection between the symbols on the weather map and the sunrise, rain, frost or snow outside your living room.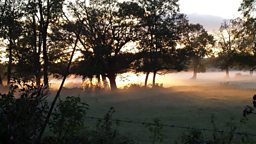 Weather Watchers contribution by kipper68, Dorchester
Working together, Make it Digital and Weather Watchers developed a range of useful guides and web pages covering how to sign up and post photographs, but of course if you're not already online and not used to using a computer, an online guide isn't that much help!
That's where the libraries came in. The BBC has a long history of working with libraries to encourage reading and a love of books, but libraries also offer access to computer services to their users, so we decided to work together to show people how Weather Watchers worked.
And the results have been just what we hoped for.
Hundreds of librarians have taken our Weather Watchers guide and used it to help people take the first steps to unleashing their digital creativity, like Dee, who visited Newcastle City Library earlier this year and was helped by librarian Andrew Scrogham.
These first steps to digital creativity are vital if we're all to take advantage of the options that new technologies and online services have to offer, and libraries play a key part in the early stages, when support from another person is so vital. Not everyone has a computer at home or a helpful friend or relative, but local librarians can make a real difference, to Dee and to many others.
If you'd like to learn more about Weather Watchers and sign up, see our guide to Getting Started with Weather Watchers