Book Club - Citadel by Kate Mosse
Kate will be on Drivetime from 1800 on Monday 22 October to talk to Simon about her book
About This Book
Set during World War II in the far south of France, Citadel is a mystery that reveals the secrets of the resistance under Nazi occupation.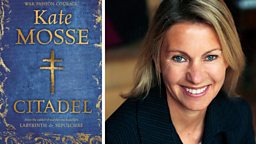 While war blazed in the trenches at the front, a different battle is waged back home, full of clandestine bravery, treachery and secrets.
And as a cell of resistance fighters, codenamed Citadelle, fight for everything they hold dear, their struggle will reveal an older, darker combat being fought in the shadows …
About The Author
Kate Mosse is the author of two non-fiction books, one play and four previous novels, including the multi-million selling international No 1 bestseller, Labyrinth. Translated into 37 languages and published in 40 countries, it was chosen as one of Waterstone's Top 100 novels of the past twenty five years.
Her novella for Quick Reads aimed at adults with literacy issues, The Cave, was published in 2008 and her short stories have appeared in a range of collections including Midsummer Nights (Quercus) and The Book Lovers' Appreciation Society (Orion).
A guest presenter for A Good Read for BBC Radio 4, Kate is also is a book reviewer for BBC Breakfast News and for Late Review. The Co-Founder & Honorary Director of the Orange Prize for Fiction, she is a Trustee of the Weald & Downland Open Air Museum in West Sussex.
In 2006 she was awarded an Honorary Degree by the University of Chichester. She is also Co-Director of the Chichester Writing Festival with her husband, author and translator, Greg Mosse.

Fancy a taster of this book?