Highlights from Villages, Farms and Countryside
Read more information about the show
Bakeation in Germany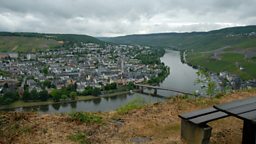 Creaton Village
Sarah Raven helped the villagers galvanise a plan to get wildflowers back on their village green and in the cemetery. They succeeded by scarifying grassy areas (raking it and taking out thatch and moss) then sowing with yellow rattle and planting plug plants of choice wildflowers.
The Farrington Family at Bottom Farm
Where once corncockle, field poppy and cornflowers would have flourished, we now find virtual wildflower deserts; great crops of wind-pollinated wheat are everywhere, but no insects or flowers. Good for the farmer, terrible for insects.
However most farmers are aware of this and don't want our insect numbers to decline, many do beneficial jobs and so farmers, like Duncan and Robert at Bottom Farm are keen to put some flowers back. By sowing a perennial wildflower mix down their borders they hope to create a habitat for the insects, increase the natural predators to crop pests and get a 'buzz' back.
Expert Pamela Lewis of Sticky Wicket
Pam created a new wildflower meadow by scraping the top 6-8" off of her soil. This takes most of the nutrients out of ground and leaves a seed bed of hostile sub-soil, perfect for wildflower seed. Betony, Devil's Bit Scabious, Knapweed, Wild Carrot and Dyers Green Weed are all wonderful for insects but diversity isn't enough.
Length of season is vital to insects too having a broad range of pollens and nectar for a long period is the ideal. To extend the season Pam started to select her own seed. By saving only seed from plants flowering early or late she has started to 'breed' a longer season into her meadow.
Wildflower diversity
Simon Potts, Professor of Bio-diversity & Ecosystems, explains the diverse range of wildflowers needed to properly nourish healthy, disease-resistant honey bees & pollinating insects - providing their "five a day" and sustaining the natural populations.
Bumblebees
Dr Nikki Gammans from the Bumblebee Conservation Trust explained that they are working with farmers to increase the habitats available to the 25 Bumblebee species in the UK.
Sowing Meadows
You can collect seed to create your own meadows. Sarah Raven got advice from expert seed collector Sue Everett. Her top tips are:
- Only take what you need and remember, a little goes a long way
- Take only ripe seed
- Get the landowners permission
- Use a paper bag or a newspaper folded into a bag
- Don't collect rare or endangered plants like orchids
- Dry the seed
- Store in dry and cool
- Sow as you would if you'd brought them.
REMEMBER it can take up to two years to see flowering as some plants are annual, some biennial and some perennial.
Stockbridge Technology Centre Research Project
David George from Lancaster University explains to farmer Duncan Farrington the thinking behind long term trials of perennial wildflower mixes for farmers to sow in field margins. A mix of up to 22 different types of wildflowers should give value to farmers by acting as a natural pest management system providing a habitat for predators which would in turn feed on crop pests.
Music used in the show
Making Waves – Tom Howe/Mike Reed/Matthew J Robinson (West One Music)
Cave – Mumford & Sons (Universal)
Moments of Pleasure – Kate Bush (EMI)
Voicething – Goldfrapp (Mute)
Big Yellow Taxi – Joni Mitchell (Success)
After the Storm – Mumford & Sons (Universal)
Evening Light – Ben Vella/Ben Freeman (In-spired Music)
My Boy Builds Coffins – Florence & the Machine (Island)
Waiting (Instrumental) – Norah Jones/Jacquire King (Parlophone)
Little Bird (Instrumental) – Goldfrapp (Mute)
Road To Somewhere (Instrumental) – Goldfrapp (Mute)
Dog Days Are Over – Florence & the Machine (Island)
Water Rising – Gareth Dickson (Lo Editions)
I Really Need to Love – The Bees (Fiction)
Nobody (Instrumental) – Eliza Doolittle (Parolphone)
Brothers – Hot Chip (Parlophone)
I'd Do It All Again (Instrumental) – Corinne Bailey Rae (Virgin)
Gaia (Instrumental) – The Bees (Fiction)
Hearts and Minds – Seth Lakeman (Relentless)
Between Two Lungs – Florence & the Machine (Island)
Skill of the Man – The Bees (Fiction)
Rollerblades – Eliza Doolittle (Parlophone)
Don't Bring Me Down – Sia (Go! Beat)
April Petals – Ben Vella/Ben Freeman (In-spired Music)
The Writer (Instrumental) – Ellie Goulding (Polydor)
Your Song (Instrumental) – Ellie Goulding (Polydor)