8 Reasons why we loved Ronnie Corbett
We'll miss Ronnie Corbett, the small man with the mighty reputation, who was never happier than when making jokes at his own expense. The evident glee he felt when prancing about in The Two Ronnies alongside his longtime collaborator Ronnie Barker sometimes belied his skill as a comedian - here's why we'll miss him.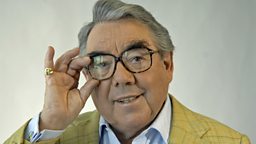 1. Small but perfectly formed
When you're a small bloke, you're an unconvincing heavy, so Ronnie would rattle off a succession of self-deprecating gags about getting trapped in the budgie's cage etc, and this one: "The first school I ever went to was a pretty soft school. At St Pansy's Primary, you could have a reign of terror with a balloon on a stick while paying protection money to the Brownies."
2. Twang!!
Ronnie was discovered by the late Sir David Frost while he was in a musical with the unlikely title "Twang!!". Frost saw Ronnie as the perfect foil for John Cleese and Ronnie Barker in his show "The Frost Report", and history was made, along with the phrase "I look up to him."
3. Space-Ron
He was the subject of an urban myth that he'd appeared as one of the apes in the opening scenes of 2001: A Space Odyssey. Two years ago he said it wasn't true: "Stanley Kubrick saw me doing a little spot on Sunday Night at the Palladium and said, 'he would be ideal for one of my apes'. I turned it down."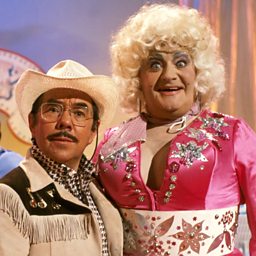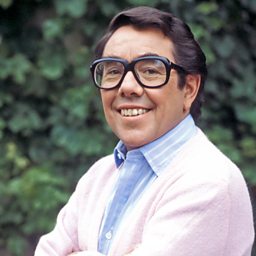 4. Sorry!
Ronnie was responsible for the phrase "Language, Timothy!" entering the lexicon, thanks to his appalling mother in the sitcom "Sorry!" in which he played Timothy Lumsden, a put-upon librarian bullied unmercifully by his overpowering mama.
5. Getting it wrong
He nearly missed being awarded his CBE by the Queen (a "Two Ronnies" fan) because he was in the loo. He also got locked in the lavatory at Victor Spinetti's memorial service and had to escape with the aid of a screwdriver. "I've been trapped in some very posh toilets," he said.
6. Never a cross word
He had only one disagreement with Ronnie Barker. The duo were performing a "This is Your Life" sketch. Ronnie C couldn't see the point of it and discussed it with Ronnie B who urged him to just do it. Ronnie C's wife agreed, and reluctantly he went ahead, only to discover that the sketch was a cover for Eamonn Andrews to enter the sketch and actually deliver the big red book to Ronnie C himself.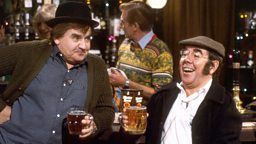 7. Mixing it up
Ronnie was happy to work with modern comedians and didn't discriminate - funny is funny. In fact one of his most popular appearances in recent years was in Ricky Gervais's "Extras" when he played himself, at the BAFTAs, snorting coke in the loos. He also memorably fell off the treadmill in Peter Kay's version of "Is This The Way to Amarillo" for Comic Relief – and allowed the pratfall to be kept in the final version.
8. Black humour
Radio 4's "When the Dog Dies" drew tremendous comedy from a very real situation - a father whose child is urging him to downsize in order to move into his property. Ronnie bought a slightly acerbic edge to this much-loved black comedy.
How can you not love a man whose fans include the Queen and Rob Brydon and who turned down Stanley Kubrick? RIP Ronnie.