Dev Direct
Dev's got a mobile phone...
...which you can ring him on for a chat - he might be at home, might be down the shops, might be at his mum's, wherever he is, you can speak to him.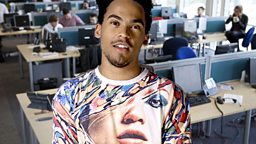 There's no middle-men, just you and Dev, on the phone (if you get through!).
Dev records the best / worst calls and plays them out on his show every day, Monday - Friday, 4 - 6.30am on BBC Radio 1. It's that simple.
Listen out for the next time to call Dev and that all important number.
Things you need to know
You must be over 16 and have the bill payer's permission
By calling, you agree for Dev to record the conversation and possibly play it out on air on BBC Radio 1
Calls will be charged at your normal network rates to a mobile phone number
Make sure you check the number carefully before you dial
Dev can't help you with serious issues or emergencies so please don't call about those
After an hour, Dev'll turn the phone off