Industrial Transitions

360º panoramic view of the garden
Best Summer Garden
Designed by Caroline Lord
Industrial Transitions illustrates what can be done with a small urban space and largely reclaimed materials.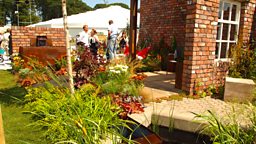 The garden celebrates Manchester's prominence during the Industrial Revolution.
Throughout the garden there are various elements that represent different parts of Manchester's infrastructure and industrial heritage. Its canals, railways, docks and even factory floors all have features that represent them within this beautiful contemporary setting.
Plant list
Alchemilla
Aquilegia
Achillea
Athyrium filix
Berberis thun
Buddleja davidii
Chamomile
Crocosmia lucifer
Deschampsia
Echinacea purpurea
Euphorbia fireglow
Helenium
Knautia macedonica
Lythrum 'Robert'
Panicum virgatum
Persicaria
Sedum matrona
Stipa aruridinacea