Radio Wales Music Day 2014: Listening and viewing guide
Friday April 25 was the big day - ourfifth annual Radio Wales Music Day. And what a day it was! A headline concert featuring the Alarm's frontman, Mike Peters, and the BBC National Orchestra of Wales, including a video tribute by rock legends U2, an exclusive Gruff Rhys recording and the unveiling of 12 up-and-coming bands aiming to rocket-boost their careers.
An unforgettable concert
Don't miss the spectacular closing concert from The Alarm and the BBC National Orchestra of Wales - you can watch as well as listen to this remarkable show online.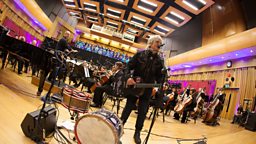 > Watch eight videos of the spectacular performances online now
> Listen to the whole show on BBC iPlayer Radio
> Photo gallery from the concert
Mike Peters' performance with the BBC National Orchestra of Wales, recorded recently at BBC Hoddinott Hall, includes an exclusive video tribute for Mike by world-famous legends of rock, U2.
Catch up with the best of the day online
Radio Wales Music Day 2014 showcased the very best of Welsh talent both new and established, and this year former Super Furry Animals frontman Gruff Rhys recorded an exclusive cover version of Kevin Ayers' 'Religious Experience' to mark the day.
Jamie Owen Live at Focus Wales with Kids in Glass Houses and Horizons
Jamie unveiled the first set of six Horizons bands, who will be supported by BBC Wales and the Arts Council of Wales over the next year. The Horizons music scheme offers bands a platform at events across Wales and through BBC Radio Cymru and Radio Wales. Two acts who made the Horizons shortlist - Gabrielle Murphy and Houdini Dax - performed live on the show, as did local band Sparrowhawks. The remaining six acts were revealed later in the day on BBC Radio Cymru.
> Listen to the show online now
Wynne Evans's Big Welsh Weekend
On today's special show Wynne performed a remarkable version of a new song with Amy Wadge. It was an unusual challenge  in that the song in question was composed by Radio Wales' very own Eleri Siôn, as part of a song-writing challenge she's taken on over the previous two weeks.
> Listen to Wynne tackle 'A Wynne-win situation' on Audioboo now
Also on the show were live performances from Soprano Ellen Williams and Miss Maud's Folly, a band who intriguingly merge folk and gypsy jazz with Spanish and French influences.
> Listen to the whole show online
In the evening we presented another chance to hear Alan Thompson in conversation with Mike Peters, talking about the evolution of The Alarm's seminal song A New South Wales in I Write The Songs.
Following The Alarm with the BBC National Orchestra of Wales at 9 PM, Chris Needs and Beverley Humphreys staged their own DJ battle, playing their favourite Welsh music.
You'll hear the best music being made in Wales year-round on BBC Radio Wales - backing Welsh talent.