Museum of the Year 2016: Introducing the shortlist
Published 29 April 2016. Updated 06 July 2016.
The prestigious Museum of the Year accolade, hosted by the Art Fund, is awarded annually to one outstanding British institution. WILLIAM COOK reveals the five 2016 nominations which are considered to display 'exceptional imagination, innovation and achievement' – and the judges who must make the final, difficult decision.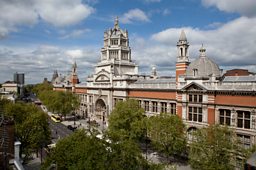 The exterior of the V&A Museum. Photo: V&A.
Artists have the Turner, writers have the Booker, but for British curators the big prize is the Art Fund's Museum of the Year. Since its inception in 2001, it's become a benchmark for accessibility and innovation - and with £100,000 for the winner, it's Britain's most lucrative arts award.
This year the winner of the award is London's Victoria and Albert Museum.
This year's winner will be announced at London's Natural History Museum on 6th July
The announcement was made by HRH The Duchess of Cambridge at London's Natural History Museum on 6th July, from a shortlist that included: York Art Gallery, Bristol's Arnolfini, Bethlem Museum of the Mind, Kent, and Jupiter Artland, just outside Edinburgh.
Last year's winner was the Whitworth, Manchester's cutting edge art gallery. The year before it was Yorkshire Sculpture Park, but this prize isn't confined to fine art.
Previous winners include the Big Pit National Coal Museum in Blaenafon, Brunel's SS Great Britain (moored in Bristol) and the Galleries of Justice in Nottingham - the first winner of the award.
Although the prestige and prize money is particularly welcome for the lucky winner, even being shortlisted gives a museum a terrific boost.
Last year, Dunham Massey became the first historic house (and the first National Trust property) to reach the final. Dunham's general manager, Stephen Adams, says the impact on staff, volunteers and visitors was huge.
This year's panel featured artist Cornelia Parker, historian Ludmilla Jordanova, curator Augustus Casely-Hayford (maybe you saw him presenting BBC's Lost Kingdoms of Africa) and BBC Arts Editor Will Gompertz.
The chair of judges was Stephen Deuchar, director of the Art Fund.
Museum of the Year 2016
A world-leading art and design museum with over 2 million objects from around the world

The new museum at Bethlem Royal Hospital, the western world's oldest psychiatric institute