From Bedroom to Boardroom: Top Tips from Entrepreneurs Who Have Made Their Own Success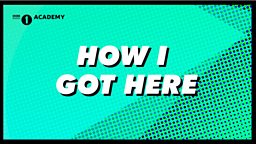 Are you interested in setting up your own business but not sure where to start? No worries - Joivan Wade & Percelle Ascott are here for you!
In their podcast "How I Got Here" they speak to inspirational people who have made their own success and taken their ideas from bedroom to boardroom.
To celebrate the Radio 1 Academy in Swansea we've picked the very best advice from their celebrity guests including comedy writer/performer Kayode Ewumi, entrepreneur Tara Button, model agency director Chams Hayden and comedian Mo Gilligan.
Discover more at http://www.bbc.co.uk/radio1/academy
JPD are here to help you live your dreams. Full of fresh wisdom for making your own future, they chat with entrepreneurs and influencers who have made their own path.
1. Mo the Comedian: "Take more risks"
Mo the Comedian, real name Mo Gilligan, has built a comedy empire from scratch. He uses Instagram to post his character comedy videos and sold over 25,000 tickets on his debut UK tour.
He told Joivan and Percelle that he felt his journey to success went roughly how it was meant to be, but if he could give some advice to his younger self, he'd tell himself to take more risks because when you take a risk "you learn about yourself as a creative... which helps you on to do other stuff."
2, Tara Button: "Don't do it for the Money"
Tara Button left a career in advertising to set up her company Buy Me Once, which sells eco-friendly, long-lasting products. After the company became a viral sensation, Tara went on to write a book called "A Life Less Throwaway".
Tara says the key to success is finding something you are passionate about. "Don't do it for the money" she says, as that will lead you to boredom, and then you won't be such a good business person.
"Think about what you were into when you were 5... then try and make that happen for yourself as an adult."
3. Charmaine Hayden: "Just Go For It!"
Charmaine Hayden runs an international modelling agency called Face4Music. She is also founder of The Goal Digger Power Circle, motivating and empowering females in business.
Her advice is to just go for it and start in whatever field you are passionate in - don't fall into the trap of thinking that you need to know everything before setting out. "When I started my journey I was thinking about being a perfectionist".
She also advised to not put too much pressure on yourself, and not to be afraid of asking other entrepreneurs for tips.
4. Ant Best: "Set Goals"
Ant Best has built and maintained an Instagram empire from his platform I'm Just Bait.
He suggests that anyone trying to build a big social media presence should diversify - so that you are not in danger if one platform becomes less popular.
He also stressed "you need to set goals of where you want to be" if you're going to stay on track with your business. Always be thinking about the next thing!
5. Kayode Ewumi: "Be Patient"
Kayode Ewumi is the creator and star of BBC3 shows #HoodDocumentary and Enterprice. He started by making his own web series before being picked up by the BBC, then starring in Action Team on ITV2.
Kayode stresses that patience is very important when following any dreams - things won't necessarily happen overnight.
He also praises his faith in God for giving him strength. As a result of his faith he has turned down acting roles that involve swearing, but he has found "people admire it when you say this is what you stand for".
JPD are here to help you live your dreams. Full of fresh wisdom for making your own future, they chat with entrepreneurs and influencers who have made their own path.