We are sorry but the Antiques Roadshow app is no longer available
The iOS and Android app was decommissioned on Monday 28th July 2014. The last show that could be played along with using this app was Wentworth Woodhouse 2.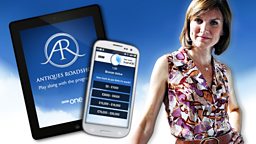 Running this app was an incredibly useful experiment in innovation for the BBC as we got to give people the opportunity to play along with a show no matter when it was being watched. The technology that we used is known as 'audio watermarking'. You can find out more about audio watermarking in Tom William's blog post which was published when we launched the app.
We'd like to thank all those that took part in playing along with the Antiques Roadshow during this 1.5 year experiment. But don't forget, if you use are a Freeview or Sky satellite viewer you can still test your antiques expertise while watching the Antiques Roadshow on BBC Red Button.