Stollen
James Morton Cooks the Perfect Stollen
Stollen
Stollen makes the perfect festive treat. James Morton, runner up in last year's Great British Bake Off demonstrates his recipe for this sweet bread.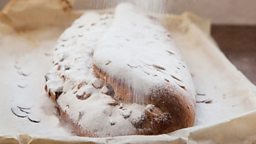 Sign up to the Cook the Perfect newsletter or subscribe to our free download to be kept up to date with all cookery items.
Ingredients
Makes 2 sizeable stollen or 1 sensationally colossal one.
Time spent in the kitchen: 20–30 minutes. Time taken altogether: 4–18 hours
For the fruit soaker
150g dried fruit (traditionally raisins, better with dried cherries)
150g Italian mixed peel grated zest of½orange
100g brandy or rum
For the dough
150g strong white flour
150g plain white flour
20g caster sugar
Grated zest of½orange
grated zest of½lemon
5g salt
1 teaspoon ground cinnamon
2 sachets (14g) fast-action yeast
100g white sourdough starter
1 medium egg
170g full-fat milk
75g butter, softened

For the frangipane (optional)
100g unsalted butter, softened
100g caster sugar
100g ground almonds
25g plain flour
100g egg (about 2 medium eggs)
50g flaked almonds, plus extra to decorate melted butter or oil, for brushing icing sugar, to decorate
Preparation Method
1. The day before you're going to bake, soak the raisins, mixed peel and orange zest in the brandy or rum. Cover with cling film.
2. In a large bowl the next day, combine the flours, sugar and zests. Rub the salt and cinnamon into the dry mix on one side of the bowl, then the yeast on the other side. Add the starter, egg, milk and butter and combine to form a dough. Cover and leave to rest for 30 minutes, if you can.
3. Knead your dough for about 5 minutes, until it is just starting to come together. Add about half of your fruit soaker then continue to knead until holding together and passing the windowpane test.
Cover and leave to prove for 1–2 hours, or until at least doubled in size. Alternatively, leave to rest in the fridge for 10–14 hours.
4. When your dough is proved, make the frangipane, if using. In a bowl, beat together the butter and sugar until you have a smooth paste, then mix in the ground almonds, flour and eggs until combined.
5. Turn your dough out on to a sheet of oiled baking paper. Flatten it out into a large rectangle, about 2.5cm thick. Smear your dough with the frangipane, then scatter the flaked almonds and the rest of the fruit across it. Try to leave a 3–5cm seam at either side of the dough clear of filling; this helps when you roll it up.
6. Roll your stollen up to make a spiral of fruit and almond in the centre. Lift with the paper and put on a baking tray, brush with a little oil or melted butter all over then leave to prove for a final 1–1½ hours, or overnight in the fridge.
7. At least half an hour before you're going to bake, preheat your oven to 240°C/gas 9. Once ready, turn your oven down to 180°C/gas 4 and bake for 1 hour, until a dark golden brown all over and it sounds hollow when tapped underneath.
8. As soon as it is removed from the oven, brush with a little more oil or butter then sprinkle on a few flaked almonds and dust with a layer of icing sugar. After a minute, dust with another layer of icing sugar, liberally coating it. Leave to cool before enjoying. It'll keep for up to a week or two, even longer.
Taken from the book James Morton Brilliant Bread
Browse our selection of recipes from top chefs, cooks and food writers who have joined us on Woman's Hour.