Taduno's Song by Odafe Atogun
About the Book
The day a stained brown envelope arrives from Taduno's homeland, he knows that the time has come to return from exile.
Arriving full of hope, the musician discovers that the community no longer recognises him and no one recalls his voice. His girlfriend Lela has disappeared, taken away by government agents. He wanders through his house in search of clues but any trace of his old life has been erased.
As he realises that all there is left of the house and of himself is an empty shell, Taduno finds a new purpose: to unravel the mystery of his lost life and to find his lost love. Through his search, he comes to face a difficult decision: to sing for love or to sing for his people.
This is a moving tale of sacrifice, love and courage.
About the Author
Odafe Atogun was born in Nigeria, in the town of Lokoja, where the Rivers Niger and Benue meet. Now a full-time writer, he is married and lives in Abuja.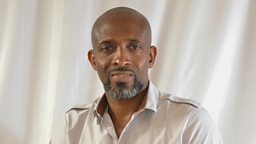 Q & A
When I write I like to...
...work out a lot. Then I stay under the shower for a long time, maybe an hour, developing my story in my mind. When I come out of the shower I go straight to my computer. The flow is joyous.
The book that inspired me to write is…
...honestly, no book inspired me to write. I had always wanted to write ever since I was a child. Not yet six, I was taken to live with strangers who failed to treat me as a child. I suffered untold hardship. The only way I found escape was through the power of imagination. I would imagine a beautiful world, far from the reality that I lived. This was how my love for writing began. It was a painful time – that period.
My specialty in the kitchen is…
...I could come up with unbelievable surprises! A friend once told me that cooking is an art. I carry this philosophy into the kitchen.
My current view is of…
...tall trees and tall buildings nestling against an endless expanse of pale sky. I ignore a couple of low buildings, which seem to distract my creative flight. On the ledge of my window, there are two or three birds pecking at the glass. Golden chirps float into my study. The sun is warm… the world is at peace.
One of my favorite writers is…
...Milan Kundera. I find it very interesting and colourful the way he philosophizes with his stories. His first book I read was The Unbearable Lightness of Being. This book woke something in me, and I realized that as a writer you must develop a unique voice.
One thing people don't know about me is...
...because I never had a childhood, my age on paper may not necessarily be correct.
The thing I love most about words is...
...they come alive; they create life, as if by miracle. In fact, words are a miracle! Whether you believe it or not, remember: And God said, 'Let there be light': and there was light. Only words could have achieved that!