Etchings by Yorkshire-born Eli Marsden Wilson
One of the etchings brought along was made to hang in Queen Mary's dolls' house in 1922, the other two (displayed in the picture) show a prison cell.
They were all created by Eli Marsden Wilson, who was a conscientious objector during World War I.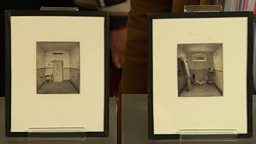 The prison cell in the pictures, valued at £50-£100 each, is where he spent two years after refusing to fight in 1917.
The Yorkshire-born artist's work for the dolls' house is valued at £200-£300 as it comes with a Royal letter confirming the commission.
Did you know? The Queen's Dolls' House was designed by British architect Sir Edwin Lutyens and features a flushing toilet, hot and cold running water, a wine cellar, and working lifts.
Get the app that lets you join in by guessing the values of items featured in the show.