Submit a Photo
We'd like listeners' photos to accompany every episode in the series. If you've got a photo to contribute, here's how you can send it to us.
The People's Songs will paint a picture of the nation's people - not just on the radio, but here on the website as well.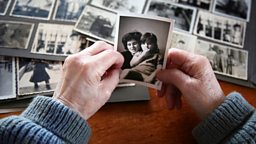 Do you have a photograph that would help us to tell the story of Britain over the last 70 years?
Perhaps you've got an old photo of yourself in your younger days, dressed a hippie with flowers in your hair, or wearing leather and safety pins in your 'punk phase'.
Were you a mod, a rocker, a raver or a goth? Do you have the embarassing pictures to prove it?
If you're willing to share them, we'd love to see your shots!
How to send us a photo
If you have a digital photo (e.g. a .JPG file taken on a digital camera) you can simply email the file to us at thepeoplessongs@bbc.co.uk
Please note the maximum file size we can accept is 8mb. If your file is larger than this you will need to reduce its size using photo editing software.
If the photo you'd like to send us is a print, you can either:
- convert it to a digtial file using a scanner, and email it to us,
- take a photocopy and post it to us at this address:
The People's Songs
3rd Floor, BBC Dock House
MediaCityUK
Salford
M50 2LH

Important note: please do not post original prints or negatives to us as we cannot guarantee their safe arrival and will not be able to return them to you.
How might we use your photo?
We will endeavour to feature as many photos as possible in a gallery here on the Radio 2 website. Your photo might also be used to represent an episode in the series on BBC iPlayer when it is available to listen again.
By sending us a photo, you are giving us your consent to use it on bbc.co.uk and in any social media activity relating to The People's Music.
Ways To Contribute
Send your comments, memories and stories to thepeoplessongs@bbc.co.uk or fill out a quick form to drop us a line.

Record your memories in our gallery at the British Music Experience (The O2, London).