Staying Safe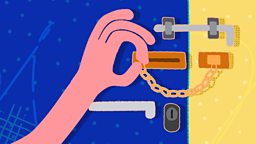 Chances are, nothing scary is going to happen to you. But as the saying goes - better safe than sorry!
Staying safe home alone
Check all the windows are secure.
Lock the door from the inside.
If someone knocks on the door, check who it is. If you don't know them well, don't let them in.
If you have a back door, lock it before you go to the front door.
Don't tell any caller, including phone callers, that you're alone. Tell them your mum/dad/enormous wrestling-champion big brother is asleep or in the bath.
If the gas man or someone similar calls, tell him/her it's not a good time and to come back later.
Staying safe out and about
Don't go down dark alleys or anywhere you don't know.
Keep an eye on your drink. Even soft drinks can be spiked.
Trust your feelings. If you feel freaked out, change your route or go somewhere you feel safe.
Look confident.
Set your phone to vibrate or silent so you're not a target to phone-thieves.
Don't walk while you talk or text so you know what's going on around you.
Before getting a lift, text the car reg to a friend or your parents.
Before you go out, make sure your phone is charged and in credit.
Staying safe online
If you have an social account such as Twitter, Instagram, Snapchat or Facebook, adjust your account settings so only approved friends can instant message you or see your personal details.
When gaming, use a made-up name and don't be tricked into giving away any personal details.
Don't have anyone on any IM contact list who you don't know in the real world.
Learn how to keep personal info, like bank details, secure online.
Treating anything any stranger says in chatrooms and forums with suspicion. Sexy 16-year-old boy asking when you lost your virginity = pervy old git sometimes. It's not worth the risk.
BBC Advice factfiles are here to help young people with a broad range of issues. They're based on advice from medical professionals, government bodies, charities and other relevant groups. Follow the links for more advice from these organisations.
BBC Webwise - How To Beat Online Bullies