Rogue Traders: Buildline Landscapes
Operating around the North London area, Chris Marino used to run a company called GardenBase Ltd. He now runs Buildline Landscapes, the trading name of Lloyds Mint Ltd. He has no connection other companies which may have similar names.
Published on 5 April 2012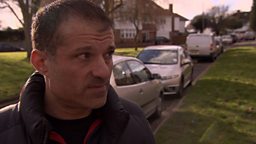 Jenny Farmer met Chris Marino and his team last August. She wanted new pathways and a new patio area and a wider path. However, part way through the job, the walls weren't straight, the bricks were not cut properly and the patio was a mess. Marino claimed there was nothing wrong with the work carried out by his team. However, after an argument with Jenny's son, he agreed to send in someone to put things right. The result was still poor, according to Jenny, as there were "bricks that were loose, not cut properly. Some steps were higher than others; the walls up the side of the path were not straight."
Nearly two months after they started work, and despite Jenny's concerns, Chris Marino claimed the job was fine and charged £12,000 for the work. Jenny has since spoken to three other landscape gardeners and they told her that it would cost approximately £6,000 to put right.
It turns out that Marino had also been taking money out of people's accounts without their say-so; Trading Standards had investigated him twice. We decided to investigate him too.
We met Mark Gregory, a gardening expert. Mark assessed the garden of the house we had hired to and identified three projects that needed to be done: a hazel stump in the middle of the garden needed to be removed, both a laurel tree and an old fruit tree needed to be cut down to ground level, and on the left hand side of the garden, there was a scrub pile of rubble, some plastic guttering and children's toys that need taken away. Mark estimates it as no more than a day's work for one person, with a maximum cost of £350.
Chris Marino arrived and charged £12 just to give a quote. Our stooge, Alison, showed Chris the garden. After he assessed the garden, and promised both a tidy-up and removal of the hazel stump, as well as offering up Lawrence Phillips who he describes as a 'grade one horticulturalist' to do the job, Chris quoted Alison £750 plus £165 for waste removal - that's £1100 including VAT for a simple garden tidy up.
Chris told Alison she had to pay half the cost as a deposit and the other half when the job is done. We agreed to pay him £550, but later that day he took the entire sum from our account. The courts had already warned Chris Marino not to take money from people's accounts without their approval, so it seemed like he was up to his old tricks.
Lawrence Phillips arrived and homeowner Alison shows him around whilst expert Mark got in position. Lawrence tackled the tree stump first but Mark immediately spotted a problem: Lawrence was using a panel saw. A panel saw is a carpentry saw; in other words, it is a joiner's saw as opposed to a gardener's saw - and if you haven't got the right kit, the job's going to be a lot tougher and much more time-consuming.
After much huff and puff, Lawrence finally kicked out the stump. He then moved on to the fruit tree - and looked like he was limbering up to do it. At one point, Mark noted that Lawrence was on the floor, wrestling the tree. We even heard Lawrence telling the tree that he would "destroy it". He finally managed to remove it and moved on to the next task: moving the rubble. However, Lawrence hadn't brought his wheelbarrow. Instead, he used an old rickety one that he found lying around.
Mark Gregory commented: "You always bring your own stuff, you don't use the clients tools. It's completely the wrong wheelbarrow for doing a job like this. He's going to rut the grass."
Lawrence then started moving the rubble. He ended up dumping more green waste at the bottom of Alison's garden. Not content with hiding waste there, he also threw it into the neighbour's garden. Mark observed: "He's messed about all day long, he hasn't a clue what he's doing, he's running out of light, so he's dumping stuff just to get off the job."
The job wasn't finished - but Lawrence was. Before leaving, he called his boss, Chris Marino. Marino had already taken the full £1100 from our account, but it seemed he wants even more. Lawrence asked Alison to pay half the balance by cheque to him; that would be another £550 - which we didn't give him.
So Lawrence left, and in doing so left us with an unfinished job and a mess of a garden, all for £1100 including VAT. That works out at £107 per hour. After initially wanting to charge extra for coming back, Chris finally agreed to send his man around to finish the job for free.
Lawrence still didn't bring his own wheelbarrow, but he still had to shift all of the rubble and plastic toys that he had been paid to get rid of. Whilst he took away most of the rubble, he ended up stashing the plastic around the garden, the plastic that he was contracted to remove. A quick grass cut later and Lawrence left. Upon leaving, he assured Alison that all the rubble, trees and plastics are all gone.
Mark concluded that Lawrence's work was "chaotic and shambolic" and as for the cost, he observed that "It didn't stack up during the quotation and it certainly didn't stack up during the viewing. He could have easily done it within seven hours if he had the right equipment; he just made a lash of it."
It was time for Matt Allwright and the Rogue Traders team to step in and confront Mr Marino. Trading Standards made Chris sign an undertaking not to overcharge people and take money from their accounts without their express permission; with that came a suspended prison sentence if he continued to carry on doing what he is doing.
We called Chris out to a different garden, in Enfield, North London. Chris arrived to give us a quote for work. This cost us £12, but we were not interested in the quote; we wanted to give Chris Marino what could be a vision of his future - a chain gang was ready to start work in the garden. Our stooge explained that the chain gang was "from the local prison". She reassured Chris that they were just doing community service. Upon this revelation, Matt stepped out to question Chris about his actions. For nearly 45 minutes, Chris Marino tried to defend his actions. He explained "I really don't see what we've done wrong. I, honestly, hand on heart; we've done nothing wrong here."
It was clear there was no getting through to Chris Marino, so it was time to call it a day.


Company Response

Chris Marino has denied our allegations and denies he's breached the undertakings. He was keen to point out that it wasn't him who carried out the work and that if he'd known we were still unhappy he would have put things right. He says he's always been pleased with Lawrence's work in the past and that it was a mistake that some of the money was asked for twice. He says the suspended prison sentence was given by the civil courts, not the criminal courts.
Regarding Jenny Farmer, he told us he's always come out when she has complained and has already offered her some of the money back.
Once he's seen the programme tonight he'll decide whether we'll get any money back.