Lifeboat board
This lifeboat board was saved from a skip by a lady who moved into a property that used to be a lifeboat station.
The board would have been used to track which lifeboats in that area of Cornwall were out on patrol at any given time.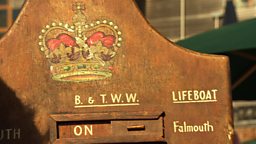 The board is a fascinating survivor from the early 20th century. It's not terribly well made, but still has historical interest and decorative appeal. Its current value is £300.

Did you know? The RNLI has saved more than 139,000 lives since its foundation in 1824.
Did you know? Sir William Hillary is credited with founding the RNLI after witnessing the destruction of dozens of ships from his home on the Isle of Man.
Get the app that lets you join in by guessing the values of items featured in the show.