Gingerbread of Heaven - Get Baking for Comic Relief
As part of this year's Comic Relief Louise is inviting her audience to 'BAKE' and get involved in our 'Gingerbread of Heaven' project.
Lou's getting you started with a recipe for a gingerbread man supplied by top Welsh food consultant Nerys Howell.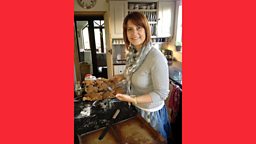 Why not bake a whole bunch of them and sell them to family, friends and work colleagues to raise funds for Comic Relief?
As an extra bit of fun we'd also like you to decorate one of your gingerbread men as a Welsh celebrity and send in a picture of it to Louise. We'll feature the best ones in a 'rogues gallery' on this page. Email your pictures to louise@bbc.co.uk
For further information about Comic Relief and to order your Free Fundraising Kit then visit rednoseday.com
RECIPE
Gingerbread Men
Makes 15 biscuits
Ingredients
120g salted butter
150g dark muscovado sugar
4 tbsp golden syrup
350g plain flour
1 tsp bicarbonate of soda
1 tbsp ground ginger
Pinch of salt
METHOD
Pre-heat oven to 200C / 180C fan / Gas Mark 6
Line two baking trays with baking parchment. Melt butter, sugar and syrup in a pan. In a bowl mix together the dry ingredients before stirring in the butter mix, to make a firm dough. Leave to cool for a few minutes.
On a floury surface, roll out the dough to about 5mm thick. Using a cutter, cut out the gingerbread men, re-using the trimmings until all the dough has been used up, and arrange on the baking trays. Bake for 10-12 minutes until golden. Remove from the oven and leave to cool on the trays for 10 minutes on the sheets, then lift onto the cooling racks.
Once cool, decorate your gingerbread men with icing by mixing together the icing sugar and water. To make different coloured icing, add food colouring. Try decorating your gingerbread men using different ingredients such as silver balls, chopped stem ginger, chocolate chips, cherries or smarties.
These biscuits will keep for up to one week in an airtight container.
Check out some of our Gingerbread stars - and find out who bought them.