Awesome Authors at the CBBC Summer Social
Awesome Authors
The Awesome Authors are coming to the CBBC Summer Social! Authors on books ranging from science, suspense and sausages will be at the CBBC Summer Social from 3-5th August.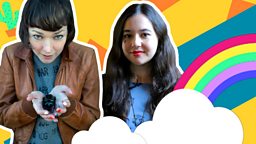 On Friday, Summer Social favourite MG Leonard will be bringing along some bug friends as she talks about The Battle of the Beetles and Blue Peter Book awards finalist Kiran Millwood Hargrave will be on hand to talk about her latest book The Island at the End of Everything.
CBeebies Stargazing's Dr Maggie Aderin-Pocock will be on site on Saturday talking about her upcoming book Dr Maggie's Grand Tour of the Solar System and sticking with the space theme international screenwriter (and local boy) Frank Cottrell-Boyce will explain how he dreamt up Sputnik's Guide to Life.
On Sunday sausage crazy Michelle Robinson will be bringing her book Ten Fat Sausages to life (literally!) along with Waterstones Children's Book Awards winner David Solomons on why he thinks My Gym Teacher is an Alien Overlord.
Visitors can purchase the authors' books onsite as a local independent bookshop will have a pop-up book store within Croxteth Hall. All the authors will be available for signings. The Awesome Authors events are included in the ticket price but space is limited at each session and admission tickets will only be available on the day on a first come first serve basis. The full list of authors is detailed below.
Friday 3rd August
Kiran Millwood-Hargrave
M G Leonard
Tamsyn Murray
Saturday 4th August
Frank Cottrell-Boyce
Katie Thistleton
Susan Martineau
Sunday 5th August
Michelle Robinson
David Solomons
Lisa Thompson
Jon Mayhew
Keep checking back as new authors may be added nearer to the event!