Changing Lives
Red Nose Day is when the whole country gets together to have fun and raise life-changing cash. From fantastic fundraising feats to acts of downright daftness, it's all back on Friday 15th March 2013.
Raising money and changing lives
We use the money you raise to transform the lives of countless people, both here at home in the UK and across Africa.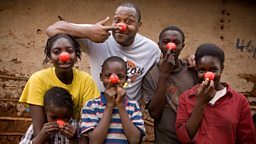 In the UK you help give shelter to young people living on the streets and protection to those living with domestic abuse. In fact, wherever you are in the UK, it's likely you're never more than 30 miles from a Comic Relief supported project.
In Africa, your money saves thousands from malaria and provides whole communities with fresh water and life-saving vaccines.
This is all just a fraction of what your money can do - and it couldn't happen without your brilliant support. Thank you.
Our crack team of celebrities with one vital mission: to help you do something funny for money on Friday 15th March.

Wherever you work, getting together with your workmates to have a laugh and make a difference is what Red Nose Day's all about.
There's something huge and hilarious on the horizon and it's all happening on Friday 13th March 2015.