The Fourth Dimension
The Savages
TAYLOR MADE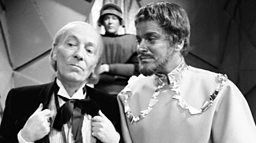 The Savages is the last story to feature Steven Taylor played by Peter Purves. After the Doctor has put an end to the Elders' parasitic dependence on the life force of the Savages, Steven remains behind to unite the two peoples.
NO NAMES
This is the first story to replace the individual episode titles with just the episode number – 'Episode 1', 'Episode 2' etc.
ELDER ACTOR
Frederick Jaeger, who plays Jano, the leader of the Elders, would later return to Doctor Who in two adventures with the Fourth Doctor. He played the Jekyll and Hyde-like character of Professor Sorenson in Planet of Evil Planet of Evil and Professor Marius, the original owner of robot dog, K-9, in The Invisible Enemy.
QUARRY ENTRANCE
Part of The Savages was filmed on location rather than in the studio and for the first time ever on Doctor Who, a quarry is used to represent an alien world. There will be many more worlds and many more quarries to come in the future…
SAVAGE SIDEKICK
Ewen Solon who plays Chal, the leader of the Savages, was well known for playing Lucas, the assistant of the French detective Maigret in the long running series of the same name. He later returned to Doctor Who in Planet of Evil, which also starred Frederick Jaeger, as Vishinksy.
WE'VE BEEN WAITING FOR YOU
The Doctor, Steven and Dodo are surprised to find that the Elders have been able to track and watch the Doctor's adventures for many years and refer to the Doctor as 'The Traveller from Beyond Time'.
A FORCE TO BE RECKONED WITH
The Elder leader, Jano, takes on many of the Doctor's mannerisms and characteristics once he has absorbed some of the Doctor's life-force. Apparently William Hartnell himself coached Frederick Jaeger, who plays Jano, on how to imitate him.
PLANET OF PROSPERITY
The world on which The Savages takes place is never named, but the Doctor recognises it as the home of a highly advanced race in the far future.
AUDIO RELEASE
Sadly The Savages no longer survives in the BBC's archives. However, a soundtrack recording of the serial does exist and, along with linking narration by Peter Purves, has been released on CD and for MP3 download by BBC Audio.
Related Content
The TARDIS arrives on a world ruled by the apparently civilized and highly advanced, Elders.