About Ambridge Extra
More from The Archers, on BBC Radio 4 Extra
Pictured: Matt Crawford and Lilian Bellamy (Kim Durham and Sunny Ormonde), in happier times.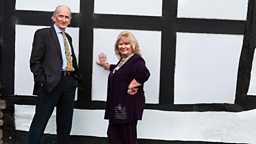 Ambridge Extra gives listeners the chance to spend more time with Archers characters, giving them an added insight into other areas of their lives.
It can be enjoyed in conjunction with The Archers, or listeners can tune in to either programme as stand-alone series
Series 5
This series intially follows Matt Crawford and Lilian Bellamy on their holiday to Montenegro.
It's far from a relaxing break, with the affair and Paul's death hanging over their heads. Matt finds distraction with some new friends: Russians involved in commercial property development over there, with big consequences for himself and for Lilian.
Characters from The Archers
Follow the links to their full pages in the Archers Who's Who
Guest stars
Meet the new characters, and hear a brief introduction from some of the actors playing them.
The Russians
Dmitry - Pony-tailed, motorbike riding... a free spirit that would turn any woman's head. Listen
Tatyana - super-cool international businesswoman. Listen
Vitaly - Playboy and property developer. Listen
Leonid - Vitaly's father, a wealthy oligarch. Listen
The Brits
Robin - London-based businessman
Zac - London-based computer whizz, friend of Dmitry's
Photo gallery
See the cast in action and 'on location' (all photos were taken in Bimingham!)
How can I listen?
Ambridge Extra is broadcast on BBC Radio 4 Extra. You can hear it on Tuesdays and Thursdays at 2.15pm, with an omnibus half hour programme on Sundays at 11.15am and again at 7.15pm.
BBC Radio 4 Extra can be heard on DAB digital radio and digital television, and online via your computer. You'll also be able to sign up to the podcast (free download) which will deliver programmes automatically to your computer, to listen to at your leisure.
Listen to Ambridge Extra online
Sign up to the Ambridge Extra podcast