Eurovision Song Contest Final - Song Reviews
Our crack team of Eurovision experts have rubbed their chins and committed their thoughts, opinions and (partial) put-downs here on the Radio 2 Eurovision Live Blog.
Read what they think as you immerse yourself in the Eurovision Song Contest Final.
Ukraine / Tick-Tock / Mariya Yaremchuk
Samantha Ross: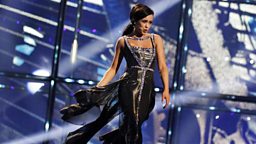 Ukraine's Tick-Tock is sung by Mariya Yaremchuk.
Sassy, cheeky, confident...this may become the "sing-into-your-hairbrush-when-nobody's-watching" song of 2014.
Martin Faulkner:
Tightly produced, danceable, ethno-tinged pop that tends to do decent business on the scoreboard.
Graham Soult:
Smouldering Maria gives 'Tick Tock' plenty of welly, but it's all a bit generic and nothing we haven't heard before.
Chris Higgins:
Ukraine's record in their eleven years in Eurovision is mightily impressive, with a win and four more top four finishes under their blue and yellow belts. However, all good things must come to an end.
Ewan Spence:
A front-runner, but not the favourite, for prop of the year, has an athletic dancer spinning himself around and running on the spot while Ukraine's Mariya Yaremchuk does the requisite dance moves in front of the prop before doing a touch of interaction in the last third. It's Eurovision by the big numbers, but Ukraine usually get their sums right on the night.
Belarus / Cheescake / Teo
Samantha Ross: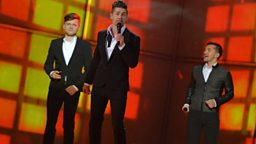 Hungry, anyone? Teo from Belarus has the perfect treat for you.
I normally love a little nibble of Cheesecake, but this one leaves me a bit cold.
Martin Faulkner:
The gimmickry implied by the title is kept under control, raising more of a wry smile than a disbelieving guffaw, and all in all I'm rather fond of this one!
Graham Soult:
Cheeky chappy Teo struts and gurns his way through the song, telling his ex-love that he's "tired of being your sweet cheesecake."
Ewan Spence:
While the video and original presentation focused on Teo and a rather attractive lady, the Eurovision on stage goes all Timberlake/N-Sync on us, stripping the awkward (and slightly sleazy) feel of the song for a boy band pop number, with dance moves, twitches, and poses.
Chris Higgins:
Possibly too silly to be taken seriously, but not silly enough for people to find it amusing.
Azerbaijan / Start A Fire / Dilara Kazimova
Samantha Ross: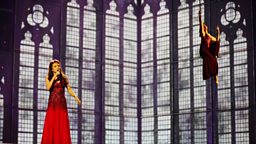 Dilara Kazimova will be rubbing sticks together for Azerbaijan to Start A Fire.
The blending of jazz and traditional Azerbaijani music is a major touchstone of local musical culture, yet this feels accessible to the international masses. Out of all of the ballads in this year's competition, this is probably my favorite.
Martin Faulkner:
While this is on, it's gorgeous, and Dilara's vocals are flawless - but will anybody remember it 30 seconds after it finishes?
Graham Soult:
A fragile, jazz-tinged ballad that has all the rawness and emotional impact that Sweden's 'Undo' lacks.Juries will lap this up, and of all the female ballads in this year's Contest I suspect that Azerbaijan's may be the one to watch.
Chris Higgins:
They're rather keen on fire in the land of fire, but this is more of a sexy smoulder than a raging inferno. It also has that intriguing-sounding instrument in it, making the whole package quite hauntingly beautiful.
Ewan Spence:
It's not screaming 'winner' but if the voting is close on Saturday night this has an outside chance.
Iceland / No Prejudice / Pollaponk
Martin Faulkner: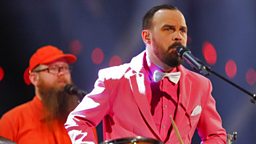 Iceland's Pollaponk sing No Prejudice at this year's contest.
Iceland's Pollaponk sing No Prejudice at this year's contest. If there's one genre we don't see enough of at Eurovision, it's punk-rock-funk-kiddie-pop. But never fear, here come Pollapönk to the rescue. If this were the Eurovision Cramming In As Many Syllables As Possible Competition, they'd win by a mile. Since it isn't, qualifying for the final will already be an achievement.
Samantha Ross:
It's bright, bouncy, catchy, and with a universal message that we can all appreciate, but will viewers vote for this, or will they just consider it child's play?
Chris Higgins:
Bright, brash and colourful. We're only five songs in and this is the second jolly jape of the evening already. Who said Eurovision wasn't fun? This one has a more serious message though. Unless you felt passionately about baking when song 2 was on.
Norway / Silent Storm / Carl Espen
Samantha Ross:
There's something so appealing about a guy who looks like he could take down trees with his bare hands going on and singing so sweetly about his vulnerabilities and emotions.
Martin Faulkner:
"Silent Storm" is a strong song, but the gruff and rugged Carl comes across as so terribly introverted that you get the impression he'd far rather be back at home creosoting a fence than performing in front of a hundred million TV viewers. Stark emotion, risky business.
Graham Soult:
This is a song that divides opinion – one person's 'beautiful' is another's 'dreary' and 'depressing' – and there are quite a few variables that could affect the result.
Chris Higgins:
If Eurovision still took place in a genteel TV studio, this would be odds on to win, but can a song which relies on quiet for its full, haunting effect survive in a stadium with people down the front who will probably ruin it with their screaming?
Romania / Miracle
Samantha Ross: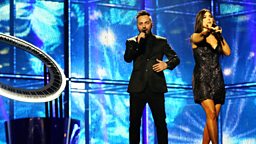 Romania's Ovi means business. So much so, he's brought he special circular piano keyboard. Don't let on to the kids, they'll all want one. How many points is that worth exactly?
There's always a risk when former Eurovision stars come back into the fray, especially when the pressure to pass their previous record looms. That's the challenge that 2010 bronze-medalists Paula and Ovi face in Copenhagen. Is "Miracle" as memorable as "Playing With Fire" was? Iffy.
Martin Faulkner:
"Miracle", a song that starts promisingly but, to my ears at least, rapidly descends into two people shouting at each other for three minutes.
Graham Soult:
'Miracle' is a great dance track, Paula gets to show off her impressive vocal acrobatics again, and you can already picture the song being covered by the cast of Glee.It's just not quite as playful and appealing as their last effort, however, and there are surely no staging gimmicks that can trump the awesomeness of 2010's double-sided piano.
Ewan Spence:
They have thrown the kitchen sink at this staging, with a comical circular piano, a video effect that invites laughter, and a performance that relies on the 'name' of Paula and Ovi rather than delivering a good song with a strong visual element.
Chris Higgins:
Throw in some David Guetta-style anthemic dance production and you have a song which is certain to make the final. And it has. The UK gave this duo a flaming douze points in their semi-final last time and a fiery 8 in the final. Reaction to this one may not be quite so hot.
Armenia / Not Alone / Aram MP3
Graham Soult: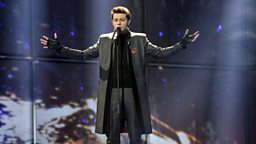 Armenia's song is sung by a man with a file extension for a surname.
Starting gently, as a poignant and beautifully orchestrated ballad, the Armenian song morphs into a raging dubstep anthem, with Aram throwing every emotion he's got into the performance.'Not Alone' is a stunning, modern entry.
Martin Faulkner:
Bucks Fizz this ain't. Aram MP3 (no, really) is not the most charismatic of performers, but the song certainly stands out for being so different, and maybe that'll be enough.
Samantha Ross:
The song's uniqueness is both a blessing and a curse, but that doesn't keep me from personally loving it.
Chris Higgins:
A quiet start to the contest, or so it seems. You'll be left wondering where the chorus is, and then you'll wonder what's next.
Montenegro / Moj svijet / Sergej Ćetković
Samantha Ross: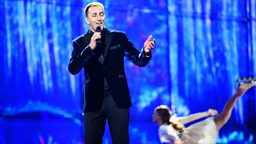 Ah, the Big Balkan Ballad. Always sweepingly dramatic, always passionate, always powerful, and almost always appreciated on the scoreboard (especially when sung by men).
Martin Faulkner:
Balkan balladry, smothered in flutes and strings, key changes aplenty, conjuring up the evocative scent of the Adriatic, then ruining it all with some ridiculous gimmickry involving a roller-skater. But you know what? I don't care. This may hit every cliché in the book, but I blooming well love it. And Montenegro have never qualified for the final. Come on Europe, they're quite good at football and have lovely beaches, give them a break!
Graham Soult:
It's just a lovely song, building to a dramatic (if slightly abrupt) finish, and performed with absolute ease by the experienced and silken-voiced Sergej.
Chris Higgins:
An epic Balkan ballad, with a gorgeous, sweeping tune, and it deserves to get there anyway. However, the withdrawal of most of Montenegro's Balkan neighbours this year isn't going to make qualification as easy as it should be.
Ewan Spence:
It's the first time we're seeing Montenegro on a Saturday night, and it is a delight to see them. I think I finally get the ice skater - in any case it was the idea of Sergej himself so I guess removing it it was never up for discussion. One of the few non-English language songs (more of this please!) from a performer who is simply enjoying himself on stage and reaping the rewards.
Poland / Donatan & Cleo / Us Slavs - We are Slavic
Samantha Ross: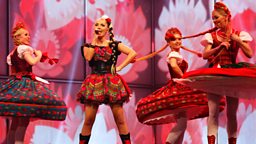 If you're watching at home with your family, this is likely the song that will incite the deepest generational rift between your kids and your Grandma. (Unless your Nan's a fan of twerking, in which case, my thoughts are with you.)
Ewan Spence:
Toned down (slightly) from the YouTube video that has racked up 43 million hits, 'Slavic Girls' is a fun slice of ethno-pop that is designed to catch the eye of a certain demographic.
Martin Faulkner:
Poland are back after a couple of years off, and they've gone straight for the jugular by choosing a song that's already racked up 40 million YouTube hits.There's little melody here, but bucket-loads of attitude.
Graham Soult:
There's no arguing that it's fun, cheeky and catchy as hell.
Chris Higgins:
This year's most peculiar billing of the whole contest, as 50% of the captioned artist is nowhere to be seen during this performance. Donatan has selflessly sacrificed his place on stage so that we can have a full complement of six, er, 'buxom beauties'. Is it ironic? Is it pure titillation? Is it distracting from the song, which is actually quite good?
Greece / Rise Up / Freaky Fortune feat. Risky Kidd
Samantha Ross: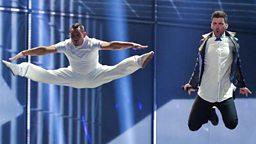 Greece's performers have a gymnast on stage with them. It's integral to the number, we understand.
This might be one of the most radio-friendly songs this year, blending hip-hop and dance with a touch of ethnic flair. Freaky Fortune and Riskykidd are young, engaging, and fun, and you can bet they'll feed off the energy of the crowd in front of them.
Martin Faulkner:
Not content with drumming their chorus into your brain repeatedly until it mutates into a colony of earworms, Freaky Fortune from Greece have brought along a trampoline, of all things. I think they're going for clever choreography, but it risks looking more like bouncy castle playtime at a children's birthday party.
Graham Soult:
You know Eurovision's got trendy when there's an act with 'feat.' in its name.
Ewan Spence:
One of a handful of songs that have a chance of winning this year.
Chris Higgins:
It's called Rise Up. They have a gymnast on a trampoline. Of course they do. This isn't the Eurovision Subtlety Contest! Catchy and cheeky, fun and funky, this is a dead cert for a high placing in the final.
Austria / Rise Like A Phoenix / Conchita Wurst
Ewan Spence: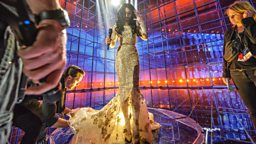 Forty. Five. Seconds. In a world of music television where the average shot length is under two seconds, the first long tracking shot of the torch song Austria' Conchita Wurst is an impressive statement of 'look at me and accept me as I am'.
Samantha Ross:
Will Conchita's aesthetic choices go unnoticed? Of course not, but she's really not here to be subtle, is she? Qualify or not (and I think this likely will), she's going to be the talk of social media worldwide.
Martin Faulkner:
"Rise Like A Phoenix" is a soaring ballad with shades of Shirley Bassey and will please those who watch Eurovision for the drama and flamboyance of it all.
Graham Soult:
'Rise Like A Phoenix' having all the ingredients of a classic Eurovision power ballad: 007-esque orchestration, glam dresses, key changes, wind machines, and a performer whose live vocals are superb.
Chris Higgins:
Conchita Wurst has a name that's too rude to translate into English and some facial hair, continuing the tradition of bearded women in Austria which stretches back at least as far as their 16th century royal household. Will Conchita's beard turn out to be a distraction from the song or draw attention to its brilliance?
Germany / Is it Right / Elaiza
Samantha Ross: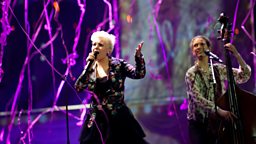 The girls have their own unmistakable style, and while it might not be the song that gets you up and dancing tonight, you'll likely find yourself bobbing along to its almost reggae-like beat.
Martin Faulkner:
Three-girl band Elaiza came from nowhere to win the preselection in Germany, but I fear their fairytale may come to a gruesome end in the jaws of a wolf named Eurovision.
Graham Soult:
A song that is simple and fresh with a delightfully folky edge. Does the song really go anywhere? Not especially, to be fair. Is it a touch repetitive?
Chris Higgins:
Beating more established artists in the German final, Elaiza's win came as a surprise to many, not least them. (Elaiza is a group, not a person.) The German delegation was so shocked that, when they delivered the song to the EBU, they forgot that their song title is a question and missed off the vital question mark. Is it right? No, it's not. Is it any good? Only if you're partial to a slowed down, accordion-based oompah tune.
Sweden / Undo / Sanna Nielsen
Samantha Ross: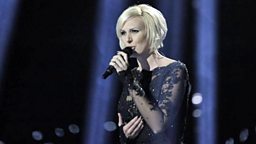 Forty years since ABBA won with Waterloo at the Brighton Dome, Sweden looks to Sanna Nielsen and her song Undo.
Sanna brings us an emotional ballad written by Frederik Kempe, himself no stranger to the ESC sphere. Sweden has Eurovision almost down to a science, with the nearly-uncanny ability to balance song, singer, universality and geography. But what wins Eurovision: formulas or heart?
Martin Faulkner:
It's all a bit... cold? Admittedly, it would be strange for Sanna to grin and gurn into the camera as she ungrammatically asks us to undo her sad, but likeability means points and points mean prizes!
Graham Soult:
'Undo' is rather like the Eurovision equivalent of a croissant – you enjoy it while you're consuming it, but then feel hungry immediately afterwards.
Chris Higgins:
Serial Eurovisionist Fredrik Kempe has written his umpteenth entry for the contest, but this time his knowledge of English has deserted him, causing the nonsensical lyric 'undo my sad'. It's irritating, because Sanna deserves a better song than this.
France / Moustache / TWIN TWIN
Ewan Spence: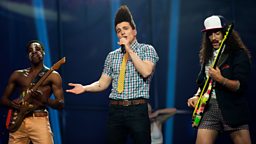 With bigger hair than Jedward, Twin Twin are probably the maddest band on the Eurovision stage this year, bouncing around this high energy number. Tapping into the current unfathomable trend for facial hair, it's shouty, repetitive, and awesome! I love this one and it's staying on my MP3 player after the Contest… because this is not going to trouble the Top Ten.
Samantha Ross:
Three young men pining for facial hair. Will the infectious, bouncy energy of "Moustache" win over voters, or will this French-language pop song miss the mark?
Graham Soult:
The thing you must love about the French is that each year they send whatever they feel like to Eurovision – often off the wall, and performed, without fail, in their own language.This year's entry ticks all those boxes, being utterly bizarre, very French, and scarily catchy.
Martin Faulkner:
This is actually quite a credible song, but the cred factor might be destroyed by a bit of a silly performance.
Chris Higgins:
France have cleverly addressed the issue of making something internationally accessible while still being in French. (They're always quite keen on singing in French at Eurovision.) They've done this by performing in the international language of silliness.
Russia / Shine / Tolmachevy Sisters
Samantha Ross: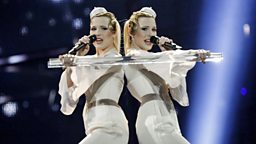 Former winners of the 2006 Junior Eurovision Song Contest, the Tolmachevy Sisters have graduated to the 'grown-up' event with a song called Shine.
Somewhat underwhelming by Eurovision standards, but capably performed by the twins.
Martin Faulkner:
A sugar-sweet, bland and unthreatening 60s pastiche. Surely nobody could take offence at that?
Graham Soult:
It's neither the best Russian entry there's ever been nor the worst, but it somehow lacks much impact or memorability.
Chris Higgins:
A formulaic, bland pop song that wouldn't have made a filler track on the third Steps album. If it sounds like it was cobbled together at the last minute, that's because it was. Even a seesaw on stage (yes, there really is) won't tip this in their favour. (Tip. Seesaw. Geddit?)

Ewan Spence:
Short of singing about Simon's Cat, Russia have sent a critic-proof entry.
Italy
Samantha Ross: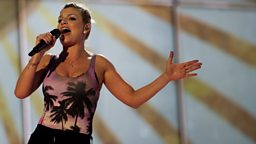 Emma is arguably the biggest star in this year's contest, with four platinum albums to her name in her native Italy. She has the swagger and star quality that a winning Eurovision performer needs (along with a quality song, of course), but there's a difference between how a singer performs at a live concert versus how they perform on television.
Martin Faulkner:
The Italian song features a line that translates as "I hate high heels, which I absent-mindedly wedge into this city's intrusive manholes". I cannot begin to tell you how much this pleases me.
Ewan Spence:
I've been following Italian rock starlet Emma Marrone since before her victory in the prestigious San Remo Song Contest in 2012. She turned down Eurovision then, so I was delighted to see her come to Copenhagen this year. Then I heard the song and… well… I know she can do a lot better than send the album filler track from the reissue of her third album. She'll sing the socks off it, she'll own the stage, and she'll get her name out to the European public, so mission accomplished.
Graham Soult:
'La Mia Città, is a very strong song in an electropunk vein, performed with growling relish. A mid-table position may be more likely than a top ten finish, but the song has enough variation and anthemic touches to avoid it becoming a scoreboard-propping noise.
Chris Higgins:
Chic rock from rock chick Emma Marrone, who seems to have more disguises than Lady Gaga. This is not the most accessible song on first hearing, but bravo to Italy for giving us some language variety by keeping this in Italian.
Slovenia / Round and Round / Tinkara Kovač
Samantha Ross: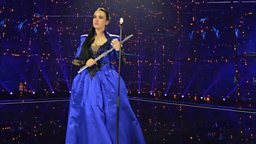 Slovenia's Tinkara sings Round and Round (and also plays the flute, we understand).
There's something rather lovely about this mid-tempo pop number, with its pleasant flute-based hook, decent vocals, and a straightforward presentation. But "pleasant", "decent", and "straightforward" don't usually add up to make a Eurovision winner.
Martin Faulkner:
Tinkara is a likeable enough performer, even if I'm reliably informed her flute technique is terrible. There's just no particularly persuasive reason for this song to exist.
Graham Soult:
The combination of a better-than-usual entry, a good slot in the running order, and relatively weak competition should see Slovenia make it through this time.
Ewan Spence:
Singing second last, with a lot of jury appeal, Slovenia could nick a surprise qualification here.
Chris Higgins:
This is pleasant, but doesn't really offer up anything new or exciting.
Finland / Something Better / Softengine
Samantha Ross: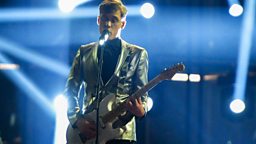 Finland's Softengine serve up an anthemic track with mature, deep lyrics that could easily be imagined as a recording by Coldplay or Keane. It's crazy to think that these guys are only 17 to 20 years old! I'm pretty sure rock music theory is taught to kids in nursery school over there...
Martin Faulkner:
The lyrics read like they've been fed through Google Translate and the band's attitude is more Disney Channel than Kerrang! TV, but Finland have history when it comes to sending safe, cartoony rock music to Eurovision.
Ewan Spence:
Without the stagecraft to fall back on, it's probably a smart stylistic move to have them go all 'Muse' with their eyes closed to reflect the emotional pain of singing.
Graham Soult:
The only trouble is that it lacks a killer hook that would prevent it all ending up a bit forgettable.
Chris Higgins:
The closest we get this year to a contemporary band, this is a bunch of young pretty boys, but not in the boyband mould at all. There's nothing else like this in this year's contest.
Spain
Samantha Ross: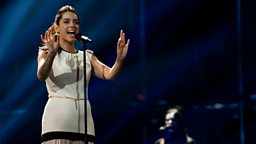 If there's any voice in the contest that has the capability to handle a massive, dramatic ballad like "Dancing in the Rain", it's Ruth's.
Martin Faulkner:
It's loud and irritating where it should be soaring and anthemic, and Ruth's voice gets terribly shouty by the end.
Graham Soult:
The song's been polished, spruced up, and generally given more oomph since it was first revealed to the world. Ruth has the vocal talent and stage presence to make it sound better than it deserves. On the downside, 'Dancing in the Rain' is repetitive, and could end up a shouty mess if Ruth's histrionics aren't kept in check
Ewan Spence:
It's very shouty-emo, and that works for Lorenzo and her fans (and I include myself in that group). I'm expecting a good result, Top Ten, but not a challenge for victory.
Chris Higgins:
Our former X Factor favourite delivers a bilingual belter for her 'other' homeland. It's big and bold and showcases Ruth's powerful voice very impressively. Spain has only won Eurovision in 1968 (much to Cliff Richard's annoyance) and 1969. If Ruth wins, we'll be kicking ourselves that we didn't grab her first.
Switzerland / Hunter of Stars / Sebalter
Samantha Ross: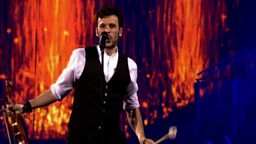 This song from Switzerland's Sebalter comes with a serious warning: There's a melody embedded in this you'll be whistling until the day you die.
He's a cheek-pinchingly adorable, fiddle-playing, folk-music-composing performer who's actually a lawyer when he's not indulging his musical side. I'm honestly surprised my mother isn't begging me to date him.
Martin Faulkner:
Sebalter's Midnight Runners try their best to inject a bit of life into proceedings with some campfire whistling and fiddling, but what should be spontaneous and joyful ends up looking precision-tuned.
Graham Soult:
Leaping around with a disarming grin, singer Sebalter throws whistling, a violin and a dodgy English accent into 'Hunter of Stars' to create a concoction that is quirky, infectious and impossible to dislike.
Ewan Spence:
Easy on the eye, and on the ear.
Chris Higgins:
One of those songs whose title will be forgotten, because you don't hear it in the song, which I always think is a mistake. Broadly fitting into the same folky box as the Maltese song which starts this semi-final (which is why they've been separated by the organisers), this may benefit unfairly from being the later one, whereas Malta's is more thoughtful and better put together.
Hungary / Running / András Kállay-Saunders
Samantha Ross: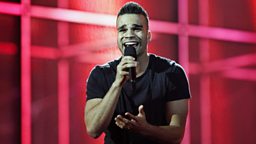 Hungary have sent the song Running sung by the handsome-faced András Kállay-Saunders. If you only listen to the music, expect a workout in the chorus.
Musically, this has the potential on paper to bring us to Budapest next year, but will the subject matter push people away, or get them talking?
Martin Faulkner:
"Running" is clearly one of the more credible offerings in this year's contest - drum 'n' bass may be a bit 90s in real-world terms, but by Eurovision standards it sounds like the future. The fact remains, though, that this is a modern-sounding song about the subject of child abuse and domestic violence. And that's far from your usual song contest fare.
Graham Soult:
András, meanwhile, gets to show off his impressive vocal talents – including a falsetto – to good effect. Rightly positioned among the top few contenders in the betting, 'Running' could certainly give Hungary its best result since its 4th-placed debut in 1994.
Ewan Spence:
Anyone not intensely focusing on the lyrics will potentially miss the story, and the message remains opaque through theatrical masks and techniques.
Chris Higgins:
Perhaps not quite the uplift that the audience might expect from the last song, but this is deservedly one of the favourites.
Malta / Coming Home / Firelight
Samantha Ross: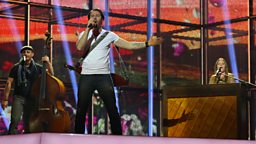 Toe-tapping and smile-inducing, "Coming Home" isn't very far removed from the nouveau-folk tracks you might hear on the radio today.
Martin Faulkner:
The song builds rather nicely, at least for the first two minutes or so until it takes an unlikely right-turn. This should do well enough for Malta though.
Ewan Spence:
Firelight are going to be on my MP3 player for a long time after the Contest.
Graham Soult:
A hummable, Mumford-esque country-folk ditty with a universally recognisable message.
Chris Higgins:
Eurovision's perennial underdogs have struck gold with this song, a toe-tapping, jangly, folky number.
Denmark
Samantha Ross: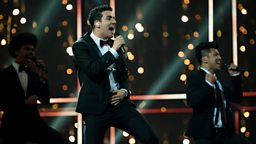 Basim's charming, his song is current and catchy (Bruno Mars, anybody?), and you just know that the audience in the hall will respond favorably to the hometown hero. A return trip to Copenhagen isn't out of the question for 2015
Martin Faulkner:
It'll go down a storm with the Copenhagen crowd, and coming this late in the running order it might just bring the contest back to Denmark next year!
Graham Soult:
'Cliché Love Song' is either a singalong ditty that doesn't take itself too seriously, or a silly entry that thinks it's cleverer than it is.
Chris Higgins:
Everyone will be singing along to the catchy chorus and Basim has secured a plum draw.
Netherlands / Calm After The Storm / The Common Linnets
Samantha Ross: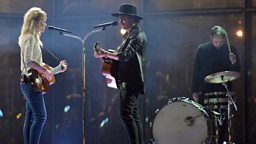 The Netherlands are offering a little Calm After The Storm at Eurovision this year. By title alone, they know how to make an impact. Does the song live up to the expectation?
Straightforward, elegant, unpretentious, and performed by two experienced professionals who have known each other since they were kids.
Martin Faulkner:
Yee-haw! I'm a sucker for country & western and Americana, and brilliantly, the Dutch entry is actually an authentic example of the genre rather than coming across like a bad European knock-off. This is easily my favourite thing in this year's contest.
Ewan Spence:
The Common Linnets would struggle to stand out in a Bob Harris playlist, but on the Song Contest stage…. they're unique (unless you remember Texas Lightning in 2006).
Graham Soult:
Some commentators have suggested that the Netherlands song might get lost among the many showier and more obvious entries, but I disagree. It stands out precisely because it is so effortless, so fresh and, well, just so *good*.
Chris Higgins:
A bit of a grower, with some classy country crooning. However, that's no good for Eurovision. It has no hook, no change of tempo, no gimmicks and absolutely no chance of lodging in anyone's memory on first hearing. It just sounds dull.
San Marino / Maybe / Valentina Monetta
Samantha Ross: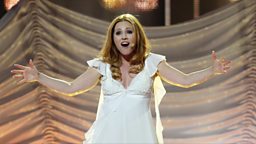 San Marino's Valetina Monetta has participated twice in Eurovision already. Is her third Eurovision appearance going to be 'the charm'?
Valentina Monetta is giving Eurovision her third consecutive try, which means that either she's incredibly determined or that San Marino has run out of other singers. This might not do her vocal justice.
Graham Soult:
It's a grower – a pleasing, old-fashioned Euro-ballad, with an unusual and quite complicated melody, that once again allows Valentina to show off her strong vocal range. If the staging is kept simple – with plenty of close-up shots of the lovely Valentina.
Chris Higgins:
Valentina and her songwriter, Ralph Siegel, are trying to get the microstate into the final for the first time. He co-wrote Nicole's 'A Little Peace', which won for West Germany in 1982. That was much better than this. It might be time to let someone else have a go.
United Kingdom
Samantha Ross: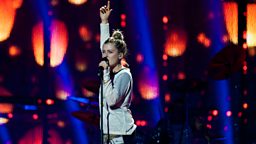 My first Eurovision was 2011, when all eyes were on Blue. For the first time since then, there's been an actual buzz about the UK taking home not only a Top 10 spot, but a potential win. Molly deserves your support, both in the competition as well as beyond it; she's got a wonderful road ahead of her.
Martin Faulkner:
It's good to see the UK taking a punt on young, untried talent. The song is strong, with two memorable lyrical hooks, though its stop-start structure might count against it. Fingers firmly crossed.
Graham Soult:
'Children of the Universe' is really strong, mostly due to the powerful and unusual interplay between Molly's lead vocal and her four backing singers. Overall, I can't help thinking (pinching myself while I do so) that the UK entry is anthemic, contemporary and memorable enough to challenge for victory, which in a hard-to-call Contest might be enough. Can someone check whether the Newcastle Arena is free next May?
Ewan Spence:
The UK entry this year is.. not rubbish. In fact, it's more than not rubbish it's challenging for a top ten place. Or a top five. I'm not going to type the next line, but we're challenging for that as well. Seriously.
Chris Higgins:
Molly is bringing a breath of fresh air to the UK's presence at Eurovision. Anthemic, sparse, and catchy, with an uplifting, defiant lyric, this would seem to have all the ingredients to do very well indeed. It's the 60th Eurovision next year. Dare we dream of hosting it?