Apply to enter the Den
If you've got a great business idea to put to our venture capitalists, here's where you can apply to take your place in the Den.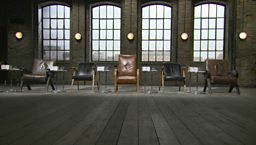 How to apply:
Download the application form (106KB) and either email or post it as directed in the download.
As part of normal selection process we may approach entrepreneurs, or they may apply direct. In each case all applications are processed in the same way. To be considered all candidates need to submit an application form and these are then subject to the same casting criteria. Final selection for participation in the programme will be decided on a number of factors including the strength of idea, a robust business plan and projected turnover.
Please note: Your information will be treated in the strictest confidence by the BBC and individual data will not be provided to any other party. For further information, please read the BBC's privacy policy. Unfortunately, due to the high number of applicants, only those people who are shortlisted will be contacted. However, we do consider all applications carefully. All information provided is subject to and will be treated in accordance with the Data Protection Act 1998, and will not be used for any purpose other than assessing applicants to take part in the named BBC programme. We regret that BBC members of staff and their immediate families are not eligible to apply. All applicants must be aged 18 or over.