Jason Mohammad at the 2013 Royal Welsh Show
Jason broadcast live from the 2013 Royal Welsh Show, joined by a host of special guests. In this blog he described what he was looking forward to as he headed to Llanelwedd.
Jason's Blog:From Brazil to Builth!
The Jason Mohammad show - weekdays at 10 AM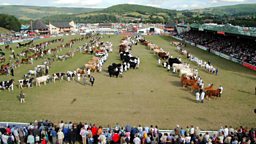 Link: Pictures from the Royal Welsh Show on the BBC Summer in Wales Facebook page
Link: Pictures of Jason at the Show on the BBC Radio Wales Facebook page
I'm so excited to be going to the Royal Welsh Show once again this year with BBC Cymru Wales. It is by far, my favourite summer event of the year. I'll be hosting my show every day from Monday to Thursday so I'm hoping some of the listeners will pop in and say hello. There's something very special about Llanelwedd – it's always such a wonderful atmosphere. I love seeing the very best in Welsh agriculture, tasting amazing food and drink and it's always a chance to catch up with old friends. I suppose my love affair with the show goes back to my days on Wales Today when I presented coverage back in 2006. As a city boy, I never had the chance to get to Llanelwedd. I suppose it wasn't really on my list of things to do in the summer but as a TV presenter it became a significant part of our annual output.
Over the past few years I've only been going up for the odd day but this year we've decided to do the show live all week. We've already lined up some excellent interviewees and features to bring you the very best coverage.
On Monday, the First Minister Carwyn Jones will be joining me to take questions from the listeners, then I'm really looking forward to catching up with Rachel Evans the Director of the Countryside Alliance on Tuesday.
On Wednesday, we'll be chatting to a sheep farmer about the extremely hard times many of them are facing and on Thursday – perhaps one of the youngest guests of the week - Elin Wyn Jones – 18 years old and RWS Lady Ambassador.
It will be a fab week – hopefully – Derek will be forecasting some sunshine for us and I'm also looking forward to taking my family around the Showground for the first time this year. My three children Lili, Max and Poppy have never been to the Show before. They too, are also very excited!
Let's hope the weather for the Royal Welsh is as good as Rio!
Jason Mohammad
Follow us on Twitter
We'll post updates and pictures from the showground through the week - follow us at @bbcradiowales