BBC Radio 2 Folk Awards 2013
The Folk Awards 2013 took place at The Glasgow Royal Concert Hall on 30 January 2013 as part of the Celtic Connections festival.
The Folk Awards have become a much anticipated annual event in the folk world with previous years featuring incredible performances from James Taylor, Nanci Griffith, Bellowhead, Laura Marling, Don McLean, The Dubliners, Seth Lakeman, Christy Moore, Oysterband and June Tabor, Martin Simpson and many more.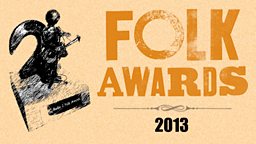 Nominees for the 2013 awards are listed below, with the awards winners noted in CAPITALS.
The Winners and Nominees
FOLK SINGER OF THE YEAR
Winner - NIC JONES
Sam Lee
Jim Moray
Karine Polwart
BEST DUO
Winner - KATHRYN ROBERTS & SEAN LAKEMAN
Katriona Gilmore & Jamie Roberts
Hannah James & Sam Sweeney
O'Hooley & Tidow
BEST GROUP
Winner - LAU
Bellowhead
Treacherous Orchestra
The Unthanks
BEST ALBUM [Public vote]
Winner - BROADSIDE – BELLOWHEAD
Ground Of Its Own - Sam Lee
Race The Loser – Lau
Skulk - Jim Moray
Traces - Karine Polwart
HORIZON AWARD
Winner - BLAIR DUNLOP
Luke Jackson
Maz O'Connor
Rura
ROOTS AWARD
MUSICIAN OF THE YEAR
Winner - KATHRYN TICKELL
Ross Ainslie
Duncan Chisholm
Sam Sweeney
BBC RADIO 2 YOUNG FOLK AWARD
Winner - GREG RUSSELL & CIARAN ALGAR
Luke Jackson
Graham Mackenzie & Ciorstaidh Beaton
Thalla
BEST TRADITIONAL TRACK
Winner - LORD DOUGLAS by JIM MORAY
Tha Sneachd' air Druim Uachdair by Kathleen MacInnes
Unknown Air by Duncan Chisholm
Wild Wood Amber by Sam Lee
BEST ORIGINAL SONG
Winner - HATCHLINGS by EMILY PORTMAN
King of Birds by Karine Polwart
Tailor by Anaïs Mitchell
The Ballad of Andy Jacobs by Kathryn Roberts & Sean Lakeman
LIFETIME ACHIEVEMENT AWARD
Recipient - ALY BAIN
Recipient - ROY HARPER
LIFETIME ACHIEVEMENT AWARD FOR CONTRIBUTION TO SONGWRITING
Recipient - DOUGIE MACLEAN
:: Read the 2013 Awards Categories and Eligibility Criteria ::
Featuring traditional and contemporary folk music, plus interviews and live sessions