Rogue Traders: Coopers Sewing Machine Ltd
In today's Austerity Britain millions of us have got back into the spirit of "make do and mend" following the example of Kirsty Allsop et al in order to make everything from cushions and curtains to dresses and drapes. What is an essential piece of gear for every wannabe Kirsty? A sewing machine! However we've been contacted by customers who are less than satisfied with the service they have received from Borehamwood-based Cooper Sewing Machines Ltd.
Published 3 October 2012: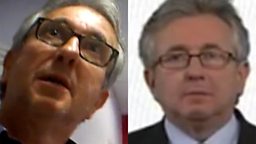 Florence Nicholls had been sewing for almost five decades when her trusty machine broke. Florence decided to splash out and bought a new sewing machine from Cooper Sewing Machines in July 2011 for £249.
Unfortunately when the sewing machine arrived Florence claims it didn't work so she contacted Trading Standards who advised her to contact Coopers Sewing Machine Ltd for a refund. When Florence called she was told that a manager would call back.
A few hours later Florence was called back by a "George Cooper" who, Florence tells us, screamed,
"How dare you threaten my staff with the Trading Standards…I'll have the machine back here and crush it to pieces".
Florence says she was horrified by the experience and put the phone down – only to be called minutes later by a man purporting to be Jay Cooper. Florence tells us he said,
"I'm the nice brother" and asked what she wanted – Florence asked for her refund on the broken machine – to which Florence says Jay screamed,
"How dare you!" and "I hope you die a horrible death".
Florence hung up on that occasion, but encouraged by Citizens Advice Bureau she persevered and did receive her money back from Coopers but she has told us the whole experience has affected her deeply and left her frightened and in genuine terror of Cooper Sewing Machines Ltd.
We were confused by this as this didn't seem to fit with the public image of Cooper Sewing Machines Ltd.
Available for all to see on their website is a promo video by an amiable Jay Cooper the Managing Director. Jay Cooper claims to offer a 30 day trial on all sewing machines and if you're not happy for any reason you can exchange it or get your money back.
Florence wasn't an isolated case of a Cooper Sewing Machines Ltd customer who got on the wrong side of Jay Cooper through no fault of their own.
Phyllis Oliver bought a mannequin earlier this year but when she received the mannequin it was the wrong size. Phyllis tried to return the mannequin to Coopers but received a tongue-lashing from Jay Cooper himself. Phyllis tells us that he was "..very bullying, very intimidating.." and said that he made her feel like the most stupid person in the world.
Charlotte Agullano had a problem after purchasing a sewing machine on credit from Cooper Sewing Machines Ltd in May this year. A bank error seemed to have made one of her instalments late.
Charlotte has told us that she was called by Jay Cooper and that he was so rude to her and made her feel so small that she actually cried.
There was only one way to get to the bottom of this and that was buying a machine from Coopers ourselves and testing Coopers Sewing Machine Ltd's customer service.
Our actress Sheila - playing Coopers Sewing Machine's customer Mrs Cox, bought a sewing machine online from their website. She ordered a Singer 7470 which arrived on time and in perfect working order. Our 'Mrs Cox' thought the machine was a bit too modern for her and wanted to send it back to Coopers - something she is entitled to do under the Distance Selling Regulations.
Under the Distance Selling Regulations you have 7 days from the receipt of goods bought online or over the phone in order to change your mind – and as long as you don't use the goods - you should then alert the company and return the items purchased from them.
Our actress Mrs Cox gave Coopers Sewing Machines a call. Who will she get? Maybe an angry Mr Cooper like the one Florence, Phyliss and Charlotte got – or the friendly Mr Cooper from the Cooper Sewing Machines website?
In fact Mrs Cox gets neither. Her call is taken by a mysterious Mr Bernard who claims there is nobody above him but Mr Cooper – and he is on holiday.
Mr Bernard tells Mrs Cox that if she can get the sewing machine back to Coopers by Saturday at 5pm she will receive her money back. However this is one day before the 7 day time limit which the Distance Selling Regulations allows you to have to change your mind.
If Mrs Cox is going to get her money back she will have to play by Cooper's rules and get the machine back right away.
As other customers have told us, Jay Cooper has been known to reject refunds on the basis that the sewing machines have been damaged in the post. We decided to send Mrs Cox's machine back by courier to ensure it was in tip-top condition. But this courier was no ordinary courier, he was a member of our team.
When our courier went to drop the machine off at Cooper Sewing Machine Ltd's Borehamwood office there were several surprises in store for them.
Firstly when he asked for Mr Bernard he was presented with Jay Cooper. Jay then rejected Mrs Cox's machine because it was beyond the seven days. This was wrong information as we still had at least one more day within which to return the machine and still be well within the law. A second surprise for our courier was that the sewing machine had been sent to the wrong office – apparently an address in Rugby was the one it was meant to be sent to.
And here is where it gets really odd. Before our courier visited there was no mention of the Rugby depot anywhere on Cooper Sewing Machine Ltd's website. Just a few hours later one miraculously appeared. But there was one more surprise for our courier.
Before leaving with the sewing machine our courier went up to Jay Cooper's office and asked for a signature. While Jay Cooper signed the delivery note our courier asked if he is Mr Bernard. Jay Cooper told us that there was no one by that name who works at Cooper Sewing Machines. Jay also told us he is actually called Jay Isow.
This was now getting really confusing.
We had stumbled on an identity crisis at the heart of Cooper Sewing Machines Ltd. Jay Cooper called himself Jay Isow and the mysterious Mr Bernard has vanished from Coopers Sewing Machine Ltd in the space of a few days.
However after getting our recordings analysed, it seems Mr Bernard is actually none other than Mr Jay Cooper.
None of this was however getting us our money back. There was only one thing for us to do. Our actress Mrs Cox had to ring up and find out why they had refused to accept the return of her sewing machine.
Mrs Cox rang up Coopers and got through to Mr Jay Cooper himself. However Jay did not entertain Mrs Cox's entirely reasonable request for a refund and hung up on her. Mrs Cox tried one more time to let Jay redeem himself but after repeatedly asking if there is anything she can do to get a refund Jay cut her off and told her,
"No. How's that? Got it in one? So don't ring me again. Bye. Bye-bye"
Later that day a member of our team called back acting as Mrs Cox's son Paul. Paul gets through to Mr Bernard who we know is actually Jay Cooper. He tells Paul that Mr Cooper had gone on his summer holiday just two hours previously and that he is Mr Cooper's PA. He adds that Mr Cooper is actually a very reasonable man and that he will look at the problem on his return. He also tells Paul that a call centre will start taking all calls during Mr Cooper's summer break.
Once again our voice analysis concludes that the Mr Bernard talking to Paul is Jay Cooper. It was time to confront Jay in person.
We sent our allegations through to Jay but after a few weeks he still refused to admit Mr Bernard was actually him and failed to address all our points.
Matt Allwright and the team turned up at his office on a bright autumn morning to put further questions to Jay in person - but first sent in a courier to check whether Jay Cooper himself was in the building. As our courier left the building with Jay Cooper in tow Matt was able to step in and put his questions to Jay.
Jay admitted he hadn't been very good with customers and held his hands up to all our allegations. He claimed he is working with Trading Standards and has employed customer service advisors to help him deal better with customers. He says part of the reason that customer service has been so poor is that he is still learning to deal with the online retail world. He told us he was also bringing in a call centre to help improve customer service for the future.
Jay mentions that he and a close family member have been ill but to his credit he did not use that as an excuse. He ends by promising to deal personally with anyone with a genuine complaint and make sure they are properly treated and their complaint resolved. Matt leaves by warning Jay that we will be keeping an eye on Cooper Sewing Machine Ltd in the future and to make sure customers are no longer treated badly.
Coopers Sewing Machines have since collected Charlotte Agullano's sewing machine and refunded her the money, apologised to Florence Nicholls for the poor customer service she received and refunded us the money for the sewing machine our actress Mrs Cox bought. Phyllis Oliver has not been contacted by Cooper Sewing Machines regarding the alleged poor customer service she received.
Company Response
A Cooper Sewing Machine Ltd spokesperson says,
First and foremost I wish to apologise to our customers for the unprofessional behaviour of our staff. We have subjected our customers to an unacceptable level of service and for that I am deeply sorry.
I am unable to recall the details of each individual incident so it is difficult for me, at this time, to comment upon each separate case. However, it is clear that many of our customers feel badly let down by my company, so I can only offer my sincerest apologies to all of our valued customers who were not treated with the level of respect that they should rightly expect.
Whilst these incidents were handled atrociously by the company's staff and me, I can categorically deny that there was any attempt to manipulate any of our customers.
Whilst I am reluctant to bring in personal matters, I feel that it may help to shed some recent light on this particular matter. (Mr Cooper then mentions the illness of a close family member). This ordeal has placed a great deal of stress upon me and, while this is not a justification, I hope that it may be seen as some form of explanation for my poor behaviour which I deeply regret.
Cooper Sewing Machines Limited has been in the family since 1903 and in 2005 we moved to set up the online section of our business. Unfortunately it seems that several members of our staff are not yet wholly familiar with the legislation which affects online business and for this I accept full responsibility.
My company has received an approval rating of between 99% and 100% rating on Amazon over the previous 18 months with over 400 positive reviews and over 2,400 sewing machine sales. We also have many emails of praise from our customers in our archives (which can be provided should you require them) and on our website. I firmly believe that the longevity of our company, in the majority, has been based on goodwill and good service. Since our online presence in 2005, we have sold approximately 400,000 items online and by phone.
These positive reviews do not excuse any negative feedback that my company has received. However, we do intend to learn from these incidents which have motivated us to ensure that we improve our customer service relations. We are committed to our customers and are taking immediate steps to regain their confidence in us. These include the following:
• We have engaged a reputable call centre which will be handling all evening calls. We envisage that they will take all of our calls once they become familiar with our business.
• We have put in place a specialised department that will deal with returns and refunds.
• We shall be ensuring that all members of staff are fully familiar with all the necessary legislation and rules for selling goods online.
• We shall be writing to all of the individuals you have brought to our attention, if we have not already done so, to apologise personally for the poor service they have received.
We are confident that, as a result of these measures, Coopers shall become a more reliable and more customer friendly company.