Get to know this year's biggest dance routines in pop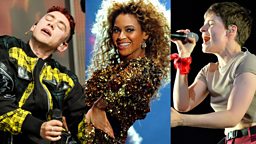 By Jack Needham, 11 July 2018
WARNING: Third Party video may contain adverts.
Christine and the Queens's body-popping
"Losing control - I'm not a fan of that," claimed Héloïse Letissier (aka Chris) of Christine and The Queens in a 2016 interview with The Guardian. It's ironic, because the electro-pop vibrations that embody Christine and the Queens's breakout records are the hip-grooving anthems almost scientifically programmed to make you lose control.
On stage I feel like I'm invincible, like nothing bad can happen

Héloïse Letissier on the power of dance
Enlisting the LA G-funk godfather DāM‐FunK for her new album's lead single Girlfriend, the track's spellbinding video depicts Letissier at her most electric as she body pops amid an orange-tinged skyline.
But did you know that Letissier's love of dance was first inspired by watching London drag queens at Soho's legendary (and now sadly defunct) Madame Jojo's club? Letissier found enlightenment in the troupe and, in turn, they "fed me with food and ideas," she recalled in a Dazed interview. It almost sounds like the plot of a movie, right?
Inspired by drag artists "questioning the norm all the time: playing with codes, gender, identity," the singer found the confidence to take to the stage, throw some shapes and never look back. "On stage I feel like I'm invincible, like nothing bad can happen," she told Time Out. "I can be myself."
WARNING: Third Party video may contain adverts.
The spectacle of Beychella
Few artists can turn the world on its axis quite like Beyoncé, and her two Coachella headline performances during April sent the world into a frenzy once again.
'Beychella', as it came to be christened, was shrouded by rumour, mystery and much anticipation, but did not disappoint, with the singer delivering a performance that incorporated a crew of over 100 backing dancers, brass players, marching band drummers and, of course, special guests Destiny's Child, Solange, plus a tribute to Fela Kuti.
As the first black female artist to headline the festival, and following the success of her equally politically-charged Super Bowl 2016 performance, Beychella was a love letter to African-American culture. Backing dancers and marching band members wore yellow costumes in reference to Alpha Phi Alpha, the first black inter-college fraternity in America.
Originating in the '90s, "flexing" is a street dance native to Brooklyn, and during a chopped and screwed rework of Bow Down/I Been On, Beyoncé paid homage to the move as flex dancers contorted their bodies around her. Later, as she danced and played patty cake with sister Solange as if the crowd of thousands weren't there, she displayed how early these cultural identities are formed.
Led by choreographer Jamal Josef, the performance turned dancers like Dnay Baptiste and Kebahb Glanville into celebrities overnight, found major fame on social media, envied by everyone from Adele to Chance The Rapper, with the latter proclaiming it "better than any performance Michael Jackson ever did." High praise, that.
The futuristic dance of Years & Years
WARNING: Third Party video may contain adverts.
Olly Alexander's love of dance is well known, previously comparing clubs to churches and saying in a BBC interview earlier this year: "You go and congregate and you dance. That's always been a sacred experience for me."
Dancing has always been a sacred experience for me

Olly Alexander, Years & Years
It's fitting, then, that as Alexander finds divine intervention on the dancefloor, new album Palo Santo explores the religious themes in songs like Preacher, Hallelujah and Sanctify. His dance moves have been taking things to a whole new level, too.
"The human cabarets of Palo Santo are attended by androids, all hoping to experience emotion," reads the greeting to Years & Years's If You're Over Me, a record that has seen Alexander embrace the confidence that comes with being the frontman of one of Britain's brightest bands.
Set amidst the backdrop of their fictional paradise of Palo Santo - a fictional planet of which their second album is based around - on If You're Over Me, Alexander explores conflicted feelings of love and showcases his blossoming in the limelight through dance, proud innuendo and unapologetic sexuality.
It harks back to the sci-fi allure of George Michael's Sexual Freak, and as we've seen echoed by the likes of Janelle Monáe, embodies pride of gender, sex and empowerment in pop music's next generation.
Childish Gambino's dance politics
"I think it's something that should be out there for the people. I don't want to give it any context," proclaimed Donald Glover in a May interview when pressed to explain the meaning behind This Is America's now iconic imagery. While artists from Kendrick Lamar to Jay-Z have helped usher in a new golden age for politicised hip-hop videos, under Glover's Childish Gambino alias, This Is America stood out from the crowd.
I think it's something that should be out there for the people

Childish Gambino on This Is America's viral video
Including hidden messages and symbolism thought represent to 2018's political unrest; Glover urged you to "watch me move" amidst a sea of destruction. Choreographed by Rwandan-born dancer Sherrie Silver, the video takes influence from the South African street dance of gwara gwara, the body grooves of azonto - a dance cornerstone of Afrobeats - and the viral dance phenomenon from BlocBoy JB's Shoot.
Glover has used dance to ramp up absurdism before. The video for 2015's crystallised R&B jam Sober saw Glover lose himself to dance in an all-night diner and felt like a lucid dream that was at once both joyous and unnerving, but This Is America was a more direct probe at how we're kept distracted by grins and gyrations while living our own anarchy.
It's an irony, then, that the video became a source of parody in itself, with one YouTuber criticised for apparent tone deafness after creating a 'Women's Edit' of such a vital work of art.
Drake's #InMyFeelingsChallenge
There are two things you can guarantee whenever a new Drake track drops. Firstly, it'll be a certified banger, and secondly, it'll inspire infinite memes and parodies that remind us that global pop giants are human too. The Canadian rapper undoubtedly made the world - and Internet - infinitely richer by all those Hotline Bling memes.
New album Scorpion, though, has spawned a new dance craze without Drake even intending to do so. The #InMyFeelingsChallenge was coined by Instagram star Shiggy and sees fans dance and mimic the characteristically Drake-like lyrics of album track In My Feelings, and has already seen everyone from Ciara to Kevin Hart take part.
While the Internet asks, "who actually is Keke that Drake is singing about?", why don't you take up the challenge yourself? Go on...