What is Promming?
The popular tradition of Promming (standing in the Arena or Gallery areas of the Royal Albert Hall) is central to the unique and informal atmosphere of the BBC Proms.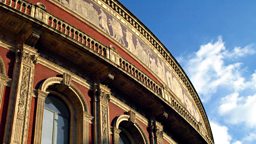 When the Proms season comes, life changes; a kind of light comes into your diary

David Attenborough
There are two standing areas: the Arena, the large space in the centre of the auditorium directly in front of the stage, which gives you the opportunity to get up close to the performers, and the Gallery, running round the top of the Hall, which has an incredible acoustic and a spectacular bird's-eye view of the stage. All spaces are unreserved.
Up to 1,350 standing places are available for each Proms concert at the Royal Albert Hall, although the capacity may vary for each Prom. Just turn up and, if you are in doubt about where to go, Royal Albert Hall stewards will point you in the right direction. The traditionally low prices allow you to enjoy world-class performances for just £5.00 each (or even less with a Season Ticket or Weekend Promming Pass).
Throughout the year you can hear top live musical events from around the world.