The Fourth Dimension
Amy's Choice
The read through for Amy's Choice took place on Wednesday, 17 February. It began at approximately 16.00 and was followed by the read through for episode 11. These were the final two read throughs for the current series and took place at Upper Boat.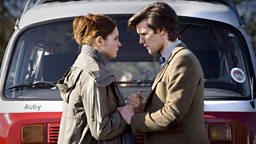 The episode was written by Simon Nye, best known for creating and scripting Men Behaving Badly (1992 - 98). As Amy's Choice was one of the last adventures in this series to be produced, Simon was able to attend read throughs of earlier episodes before finishing his script. He later said that seeing Matt Smith and Karen Gillan working together helped him capture the dynamics and 'voice' of the Doctor and Amy.
At one point Amy references Oklahoma! This is a musical written by Richard Rogers and Oscar Hammerstein II that began life as a stage show and was adapted for film in 1955. The movie stars Gordon MacRae and Shirley Jones as the lead characters, Curly and Laurey. It contains a dream sequence in which Laurey dreams of what marriage to Curly would be like. When Curley is killed in her dream it makes her realise (in reality) that he is the man for her. Sound familiar?
Much of the episode - the majority of the Upper Leadworth 'dream' scenes - were filmed in Skenfrith, a small village in South East Wales. It's about an hour's drive from Llandaff where the Leadworth scenes were shot for The Eleventh Hour.
Rory is a little unfair when he says the Doctor has never passed any exams. In The Ribos Operation we learn that at the Academy he 'scraped through' on 51 per cent... at the second attempt!
This isn't the first time the Doctor has come under attack in the TARDIS. In The Invasion of Time, Sontarans invaded the vessel and Cybermen boarded the ship in Earthshock. The Master attacked the Eighth Doctor in the TARDIS and more recently, the Doctor materialised his craft around a none-too-happy Dalek in Parting of the Ways.
And the Dream Lord isn't the first character to mimic the Doctor's outfit. In Destiny of the Daleks Romana dressed in clothes identical to the Time Lord's. He called them 'silly' and she changed into an outfit similar to the Doctor's - long coat and scarf - but a different colour.
At one point in Amy's Choice there's speculation that a 'time track' has been jumped. In the 1965 story The Space Museum the Doctor speculated that the TARDIS somehow jumped a 'time track' when he arrives at a location where he's able to see a version of his future self.
This is the first episode of Doctor Who directed by Catherine Morshead. Her previous credits include The Railway Children (2000), adapted by Simon Nye, the writer of Amy's Choice.
It's been five years since Amy saw the Doctor, and when he reappears she faces a terrible choice.