Rogue Traders - Monster Movers (based in Cardiff)
This week we went on the trail of a monster fly-tipper called Simon Slade. He runs a company called Monster Movers based in Cardiff. He offers a number of different services from house clearance and removals to pick-ups and deliveries. For a fee he clears unwanted junk and rubbish from peoples' homes, selling on what he can.
Published 30 October 2013: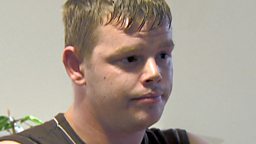 The trouble was though, Simon was fly-tipping the bits from his house clearances that he couldn't make money from. Cardiff Council was on his trail and summoned him to appear in front of them three times, but he only showed up once. Even then he refused to say anything.
We decided to investigate Simon Slade of Monster Movers for ourselves. So the team hit the road, went up to Cardiff and found a house with a pile of household clutter that needed chucking. We hid our trackers in the junk to see what and where Simon Slade did with it.
One of our team members played the part of the home owner and covered the junk in Brian Cox's favourite drink – Smart Water. This is a substance invisible to the human eye and contains a unique forensic fingerprint that means it's uniquely identifiable. As ever the house was rigged with hidden cameras so we could watch Simon Slade in action.
He arrived with some of his buddies to help shift our garage load of junk. But how did he charge us to clear it out? He said he could do cheap rate because he could make money selling it on.
'To be fair with this stuff I can make my money back off getting rid of it'. So, he only charged us forty five pounds.
After Slade and his mates left the team jumped straight on the laptops and started monitoring the trackers to watch where they went.
After five minutes, Simon and his gang stopped less than a mile away by a single track road. For thirty five minutes both of our trackers remained stationary. Had he stopped for a fag? Was he washing his van? We went to find out.
The tracker took the team down a dark road… by an even darker looking wood. Moments later they came across a sofa and a fridge dumped along the side of the road. A quick shine of the UV torch revealed the Smart Water we poured over them – so there was no doubt it was our stuff. Simon Slade clearly didn't even attempt to sell them on.
Fly tip action Wales
Someone who understands all too well the effects of unwanted waste and fly tipped furniture is Gary Evans from Fly Tip Action Wales. He runs a council action group tasked with putting a stop to it.
Gary explains, 'If you are going to employ somebody to get rid of a large amount of waste it is going to cost you money. Householders should know that if somebody comes to take their waste away for them they should be a registered waste carrier who should be taking it to licensed facility.'
However unlike members of the public, traders like Simon Slade, who have a commercial vehicle, have to pay to dump other peoples' waste at the tip. What's more, in order to carry someone elses' unwanted goods the trader also needs to have a waste carriers licence. Surprise surprise, Simon Slade hasn't got one.
We wanted to make sure Simon Slade's fly tipping antics weren't a one off so we put him to the test for the second time.
Rogue hits the city
We had another house and two new stooges and we invited Monster Movers to carry out another house clearance. This time we upped the ante and gave him loads more stuff – some of which we knew he'd be unlikely to be able to sell on including an old mattress, a smelly old sofa bed and a broken fridge. Once again we covered our stuff with Smart Water and hid trackers amongst the items so we could monitor their journey.
When Simon Slade arrived he told us that whatever he couldn't sell on he'd take to the tip. With that in mind he should have charged us far more than the forty five quid he charged us last time. But, he charged us the same amount…it didn't bode well. There was no way he could sell on some of our stuff and if he took it to the tip he'd definitely make a loss.
As soon as Simon left our team hit the lap tops to watch where he went with our stuff. First of all he went to the second hand shop but clearly couldn't get rid of all of it because soon enough our trackers were on the move again. Later that evening, our trackers stopped moving so the team went to investigate. They were lead down a side street in Cardiff and sure enough, we found our mattress and our smelly sofa bed that Simon Slade had promised to either sell on or take to the tip.
When we returned the next morning in daylight we could see that our stuff had been dumped between someone's garage and someone's house. Not really a good look for the neighbourhood. And it's up to the Council, and our taxes, to get it cleared - all because Simon Slade was too lazy to do it himself.
'Wheely' bin an experience?
The thing worth remembering is that Simon Slade's company doesn't just offer house clearances - he also does delivery and removals as well. So we called Simon Slade out for a third time. But this time we told him we wanted something moving. We set up a rather elaborate art installation which included a couple of wheelie bins, a projector and some plants. It was a very tenuous way for us to be able to project photographs of Simon Slade's fly tipping mis-demeanours on to the walls. Oh, and hiding in one of the wheelie bins was Matt Allwright waiting to pop out and greet Simon Slade.
When Simon arrives he fails to notice our projected photos of his fly tipping shame. So, as our art display was clearly wasted on Simon Slade, Matt popped out of his bin to talk to him. He did stick around for a chat. He blamed the council for his fly tipping, claiming that they don't allow him into the waste site because he has a van. Matt pointed out that he could get rid of the waste but would have pay.
Simon Slade said he no longer fly tips and recently had a letter from the council warning him about his repeated fly tipping. He took on board our points, apologised and claimed that he would never do another rubbish collection again.
Company Response
SIMON SLADE SAYS:
I now know I was in the wrong to dump the rubbish. Since filming I have stopped doing it. I only now do house moves and no longer offer a house clearance service which means I do not handle other peoples' waste.
You won't see me do this again, I've learnt my lesson.
Elsewhere on BBC Watchdog
Find more reports on rogue traders that the team have been investigating for giving customers a raw deal.