Portrait of Shakespeare
Beneath a print of Charlotte Bronte lies a pastel portrait of William Shakespeare.
The owner bought the picture solely for the frame and was pleasantly surprised to find what lay beneath. The pastel dates between 1730 and 1740, and is based on the famous Chandos portrait of the author at the National Portrait Gallery in London.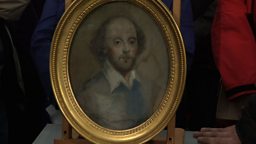 Pastel was becoming a very popular artist's medium in England in the 18th century. People like William Hall, a prominent artist, made it fashionable. You can tell that this potrait is early pastel because of the laid paper. It was painted by an unknown hand and is probably worth £600 to £800.
Did you know? Shakespeare was such a successful poet and playwright during his own lifetime, that he was able to lend money to his fellow citizens in Stratford-upon-Avon.
Get the app that lets you join in by guessing the values of items featured in the show.