Welcome to Books at the BBC
By Di Speirs, Editor, Books | 12 May 2014
Books furnish a room, they say - and they have certainly furnished the BBC since its earliest days, 90 years ago.
Their stories, ideas and authors can be found across every area of output and books, in many forms, are still at the heart of the BBC's broadcasting today.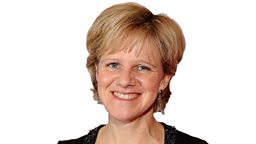 Di Speirs
Now we want to bring some of the best of that content together for you to find even more easily. If you are a lover of stories and the written word then there are programmes to delight and entertain you all over the BBC.
There are adaptations and dramatisations – from the Barchester Chronicles to Fingersmith, Jane Eyre to Call the Midwife, The Cazalets to Ulysses.
In their most intimate form, books are read to you nightly at Bedtime – Damian Lewis revealing secrets in the new Le Carre, Juliet Stevenson revelling in E M Forster's A Room with A View, Matt Smith menacing in Ross Raisin's gripping debut, God's Own Country... there's plenty of variety.
The best of non-fiction writing gets two outings a day on Radio 4's Book of the Week – there you can chart journeys to the depths of Africa or the depths of dementia, follow the struggles of feminist pioneers or stand-up comedians, explore the development of typefaces to advances in psychology, all from the comfort of your own armchair and without your reading glasses!
Authors, being interesting and opinionated and, by dint of their profession, acute interpreters of both our own times and the past, also make very good programmes in themselves.
Rich mix
The BBC has three Book Clubs – on Radio 4, Radio 2 and the World Service – where an audience can get up close to an author and put the questions on the chosen novel themselves.
We hope Books at the BBC will help you find what's on now and what's in the archive
Whoever you love reading, the chances are there will be a Book Club in the archives that you'll enjoy – from Lee Child to Harlan Coban, Margaret Atwood to Rose Tremain, Jhumpa Lahiri to Khaled Hosseni, Donna Tartt to Emma Donaghue, there are almost 200 Radio 4 Book Clubs alone waiting in the archive to delight and enlighten.
There are other ways to get beneath a writer's skin – they are frequent castaways on Desert Island Discs, guests on Private Passions and the subject matter of documentaries like Imagine – all revealing in different ways.
And if you want to know what's happening in the book world - who is making waves, who to read next, which titles are running off with the prizes - books are discussed, reviewed and their authors interviewed on Arts programmes across the networks.
Chief amongst these are Open Book, Front Row, Saturday Review, Free Thinking, Simon Mayo, A Good Read, Meet the Author, The Verb, the One Show, but then writers also appear on Start The Week, Woman's Hour, Saturday Live, Graham Norton.. the list is exhaustive/they pop up almost anywhere.
We hope Books at the BBC will help you find what's on now and what's in the archive more easily. Our new authors pages will highlight a writer each month, with some background by our literary team and just a click to the best of past content and new material, all in one place.
Over time these pages will be able to bring together an enormously rich mix of author interviews, readings and documentaries. At the same time we'll keep you to date on all that's brand new this week across the whole of the BBC with a selection of highlights and a link to the weekly Books newsletter.
We hope Books at the BBC will be an entertaining and enticing guide to the content you know and the content you have yet to discover – do let us know what you think.
Author collection
Award-winning author of novels for adults and children, and several poetry collections.

The poet, journalist and author famous for Cider with Rosie and his autobiographical works

Discussing his life and books on Arena in 1993, originally broadcast to mark his 60th birthday.