Poetry Competition
Hello, I'm Ian McMillan; I'm a poet and I present The Verb on BBC Radio 3. I want to tell you about a Proms poetry competition for children and adults.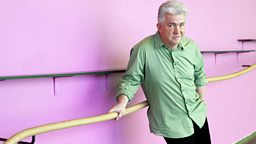 Ian McMillan
Words and music have always seemed like good pals to me
It's to do with words and music, which have always seemed like good pals to me ever since I listened to the psalms in church as a child and I had to write a story about the words of the great hymn 'Hills of the North Rejoice...' at junior school.
Entries are accepted after the competition launch on Friday 15th June 2018. The closing date is Sunday 19th August and the winners will be invited to a Proms Plus event on Monday September 3rd.
Download the entry form as a pdf
Download the entry form as a Word doc
Read the terms and conditions here.
In Association with the Poetry Society.
The two age categories are 12-18 and 19 plus.
From a past winner:
Meredith Andrea, who won the 19+ competition in 2017 with her poem, 'Giving Birth to Monteverdi', says:
'The competition gave me an opportunity to participate creatively in the Proms by writing a poem inspired by Monteverdi's Requiem. When it ended up being broadcast together with other Proms-inspired poems from the competition I felt amazingly connected across time and space to the composer, musicians, fellow-poets and listeners - such an affirming experience.'
Listen to programmes about the lives and works of some of the greatest classical composers.