Minehead Railway Station
Wednesday, 17th May
West Somerset Railway
The Seafront,
Minehead,
Somerset TA24 5BG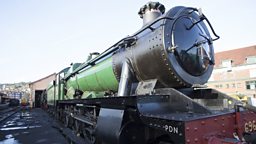 Antiques Roadshow celebrates a special anniversary this year and on our visit to Minehead Railway Station it will mark exactly 40 years to the day of the very first recording. On May 17th 1977, the cameras rolled at Hereford Town Hall, as presenter Bruce Parker and expert Arthur Negus welcomed the first visitors. Therefore, come and spend your day and be a part of television history as we mark 40 years on the road.
West Somerset Railway is full of fascination and nostalgia from the historic steam locomotives to the unique stations along the scenic countryside route ending up at the glorious Minehead Railway Station.
For visitors of the Antiques Roadshow coming from the Taunton / Bridgwater area, West Somerset Railway is running a very special train service from Bishops Lydeard to Minehead Railway Station. Please find the full details below in the travel section.
This will be an outdoor event and it will take place principally on the station platform and in the station car park. We advise that you keep an eye on the weather forecast and please dress appropriately and protect your antiques. In the event of wet weather, some of the Roadshow specialists and their respective queues will be moved into stationed train carriages and under the canopy on the platform.
Please note that the council run pay & display car park adjacent to the station will not be in operation and closed for public parking for 24 hours from 20:30 on Tuesday 16th May through to 20:30 on Wednesday 17th May.
All visitors are welcome to bring their family treasures. The event will be open from 9.30am and as long as you are in the main queue to the Roadshow's Reception Desk by 4.30pm, you will get to meet our team of specialists for the appraisal of your items.
Any firearms brought to the Roadshow must have a Firearms Certificate and all such items must be declared and checked by our Armourer before proceeding into the event.
Light refreshments including tea, cakes, sandwiches etc. can be purchased from the Station café or pop up outlets in the car park. You're welcome to bring your own picnic too.
There is access to the site at ground floor level for Wheelchair users and those with limited mobility. • Dogs on leads are welcome at the Station
Our Antiques Roadshow shop will be in operation on the day of filming, selling merchandise and souvenirs to remember your day out with us.
If you require a sign language interpreter, please contact us with 14 days notice. You can email us at: antiques.roadshow@bbc.co.uk or telephone us on 0117 974 2395.
If you have an item with a particularly unusual story, or perhaps an interesting collection, why not let us know in advance. Please contact us via our Share Your Story page.
Parking
Park and Ride
On the day of the recording, we advise visitors to Antiques Roadshow to use the temporary Park & Ride service which will be operating to and from the fields just off Seaward Way and Coach Park next to Minehead Railway Station – see map below (TA24 5EB). Please keep an eye out for the AA signage as you approach the fields directing visitors to the special Park & Ride service.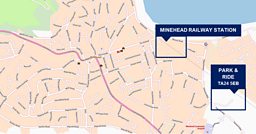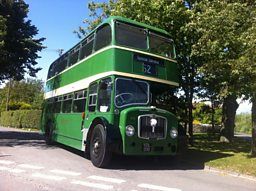 The vintage bus (pictured) will be running approximately every 15 – 20 minutes.
Please note that unfortunately this service isn't equipped for wheelchair users – you will find information about parking for blue badge holders below.
Blue Badge Holders and Drop-offs
Parking for Blue Badge Holders will be available in the council run pay & display car park. As the car park will be closed on the day of filming, please access this area by driving along the Esplanade with the Station on your left, take the first left onto Glenmore Road, then take the first left onto Mart Road. Turn down the first left towards the railway station where there will be Antiques Roadshow personnel based in this area to direct you where to park. As spaces are limited we advise that you plan your journey and arrive early to avoid disappointment.
If you have any large items, please also head for the council run pay & display car park (as above) and you will be able to offload them here and re-park somewhere else around the town.
Pay & Display Parking
Parking areas in Minehead are limited, however there are several public car parks in the town, some of which allow free parking, but some have a maximum stay of 2 hours. We recommend that if you do park in the town car parks, you pay and display a ticket for the whole day of the maximum duration allowed if possible.
The following website link shows the location of the town car parks - Parkopedia
Travel
By Train
For those traveling from the Taunton / Bridgwater areas, Antiques Roadshow & West Somerset Railway will be running a free DMU (Diesel Multiple Unit) service, which will depart from Bishops Lydeard at 09:30am and 13:25pm. (Free tickets to be booked in advance). Visitors to the Roadshow who choose to use this service, can get a return journey on any returning steam train/DMU service, at any time, for free. Please note those who have not booked a free outgoing ticket will be expected to pay the full costs to travel by steam to and from Bishops Lydeard and Minehead Railway Station (and stations in-between).
The DMU and Steam service in operation between Bishops Lydeard and Minehead (with stops at Crowcombe, Heathfield, Stogumber, Williton, Watchet, Washford, Blue Anchor and Dunster). Please note upon arrival our team of Antiques Roadshow Stewards will direct you to our Reception where your item will be processed.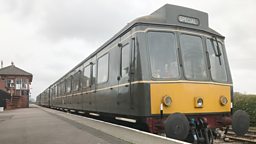 To book a Free train ticket on our DMU service, please call West Somerset Railway directly on 01643 704996. There are limited spaces available for this service, so we advise that you pre-book with WSR at your earliest convenience to avoid disappointment on the day.
The nearest mainline railway station to Minehead is Taunton. The bus link between Taunton and Minehead Railway Station is operated by First Somerset and Avon Bus service 28. For more information on Rail Services to and from Taunton please see National Rail Enquiries website and to buy train tickets please visit MyTrainTicket.co.uk.
By Road
If you are using a GPS system, the postcode for the Station is TA24 5BG.
We advise that you plan your journey well in advance, taking traffic delays and parking into consideration. Please note, there are ongoing roadworks around the Bridgwater area which may affect your journey time.
From the North, exit the M5 at junction 23 and take the A39 to Ellicombe. Follow the signs for West Somerset Railway and onto Seaward Way which leads straight to the station.
From the South, if on the M5 from the South West leave at Junction 26 and take the A38 towards Taunton and then follow the WSR brown signs.
From the West, take the A39 through the built up area as far as the roundabout at Seaward Way and then follow the WSR brown signs. (If they try and come down through Periton, the road is a "No Entry" with bollards preventing entry)
By Bus
Buses of Somerset operate Service 28 daily from the stop at the south side interchange next to platform 2 and from stop C in Station Road out of the of the main station entrance and then left under the bridge. This Service operates direct to and from Bishops Lydeard Station on West Somerset Railway operating days.
Service 28 operates to and from the Bus Station which has many connections to various parts of Somerset and beyond by local buses.
National Express also operate from the bus station and have connections in London with Eurolines from many parts of Europe. The Travel line for National Express information is 0871 200 2233.