Are we more easily offended than ever before?
In the documentary, Offence, Power and Progress, journalist Mobeen Azhar (@Mobeen_Azhar) sets out to understand the arguments put forward by those who believe that making their offence publicly known will create a more culturally aware, progressive society.
Here, he explores some recent high-profile examples of offence and the arguments on either side of the debate.
It's easier than ever to express offence. Online petitions or abrasive tweets allow us to highlight instantly the insensitivities of others to a global audience. Many condemn those who are offended as "snowflakes", tripping over themselves to take offence in an age of "political correctness gone mad". But history teaches that fringe discussions, powered by idealism and young people, often change the parameters of what mainstream society deems acceptable. Are these new idealists setting a fresh standard for cultural sensitivity?
Honey G and the "modern-day Minstrel show"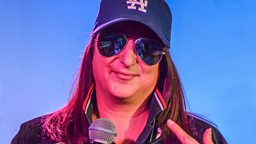 Honey G was one of the surprising stars of the 2016 series of The X Factor
The 2016 series of the TV singing competition, The X Factor, saw rap act Anna Gilford, better known as 'Honey G', progress from wacky novelty outsider to a genuine contender to win the live finals. As she moved through the competition, Honey sparked outrage.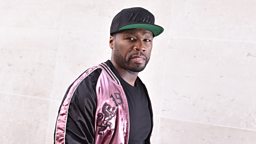 Rapper 50 Cent rejected allegations that Honey G's act was racist
The charge is inauthenticity: that Honey G is not genuine and that her act steals from a culture, an experience and an art-form that is not hers. Honey is from Harrow in north-west London, or as she calls it "North Weezy". She has a degree from Salford University and her mother is a classically trained pianist. None of this means that Honey can't appreciate or perform hip hop, but there are questions about just how real the Honey G persona (complete with baggy pants and dark glasses) is.
Honey G has had support from some surprising places. Grammy-winning rapper 50 Cent weighed in and told a British newspaper: "People calling her racist are crazy… They don't know what racism really is."
A year after her X Factor success, Honey G is unrepentant. She recently headlined a UK tour and when asked what she would say to people who are offended, she told the BBC: "That's not my problem. What I do is not racist."
Thomas Jefferson, statues and slavery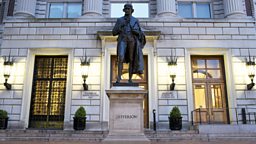 The Thomas Jefferson statue in front of the Graduate School of Journalism in Columbia University, New York
On campus at Columbia University in New York, some students are calling for the statue of Thomas Jefferson to be removed, primarily, because the US President was a slave owner.
Activist Ty Christen Joseph believes the Jefferson statue is a stark reminder of America's bloody history of white supremacy. He would like to see more diverse historical figures honoured on campus. "We demand that there be representation of different bodies. The first is Harriet Tubman: a dark-skinned, revolutionary freedom fighter."
In August 2017, the University of Texas removed four Confederate monuments after violent clashes in Virginia. Monuments to Confederate figures are symbols of "modern white supremacy and neo-Nazism", the college said.
Pharrell and the Native American headdress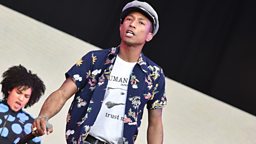 Pharrell Williams performing on the Pyramid Stage at the Glastonbury Festival (2015)
Pharrell Williams wore a native American headdress – a war bonnet to be precise – for an Elle Magazine cover shoot. A Twitter storm resulted in those offended using the hashtag #NotHappy.
Williams said that he has Native American heritage. But the Indian Country Media Network responded with an article highlighting the specific use of the war bonnet. "Eagle feathers are presented as symbols of honour and respect and have to be earned… War bonnets especially are reserved for respected figures of power."
Pharrell apologised: "I am genuinely sorry. I respect and honour every kind of race, background and culture."
Charlie Hydes and The Retirement of Laquisha Jonz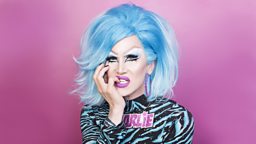 Charlie Hides biting fingers
Charlie Hides became internationally known as the "trans-Atlantic dame" after starring in the reality TV game show Ru Paul's Drag Race, also known as the "Olympics of drag".
I was forced to look at myself in the mirror and say times have changed.

Charlie Hides
Charlie is a drag queen and has for years performed in character. Some of his stage personas are celebrities and some are entirely made up. One of the latter, Laquisha Jonz, inspired a change.org petition. It states: "Laquisha Jonz is a racist act based on misogynist stereotypes of black, working-class women; it is outdated, offensive, shameful and has no place in the LGBT community."
Charlie Hides swiftly and remorsefully retired Laquisha Jonz. He told the BBC: "If I didn't listen and take on board the points that were being made, then to continue performing the character would be an act of defiance… So I'm glad that this happened, probably because I was forced to make a change. I was forced to look at myself in the mirror and say times have changed."
Emmett Till's Open Casket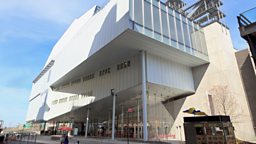 The New Whitney Museum, New York
The Whitney Museum of Modern Art in Manhattan became embroiled in a race row in 2017. The painting Open Casket re-imagined the body of 14-year-old Emmett Till, an African-American boy who was murdered in the 1950s in a notorious racist attack.
Crucially, the painting was the work of Dana Shutz, a white artist. As a result, an open letter, shared multiple times online, called the painting offensive. It went on to declare: "It's not acceptable for a white person to transmute Black suffering into profit and fun." The declaration demanded that the painting not only be removed from the exhibition, but be destroyed.
Dana Shutz responded to the controversy by explaining: "I don't know what it is like to be black in America, but I do know what it is like to be a mother." The painting has not been destroyed.
Social media has made it easier than ever to express offence. Have we all become too sensitive? Or could this calling out of perceived injustice be a force for progress?
More from BBC Radio 4
It's time to reintroduce physical activity to the workplace.