Order your thank you certificate
On behalf of everyone at BBC Children in Need, thank you.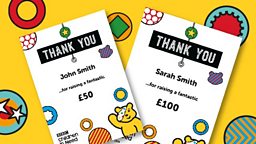 By doing your thing you've helped us raise a record-breaking amount of money; vital funds that we can put to work supporting disadvantaged children and young people all across the UK.
To acknowledge your fantastic efforts, we'd be delighted to award you with a thank you certificate. To get yours, please drop us a line with the following details to pudsey@bbc.co.uk:
• The name you would like featured on the certificate
• Return postal address
• Proof of donation (online reference number, copy of bank receipt or cheque number)
Your certificate should be with you within 14 days from the date of your message.
In the meantime, we would love to keep in touch with details about how the money you raised is being put to use. Please click here to be added to our supporter group via the sign up box at the bottom of the page.