Mark Restuccia on his BBC Radio New Comedy Award experience
An interview with BBC Radio New Comedy Award 2011 finalist, Mark Restuccia.
Mark Restuccia is one of the finalists of the BBC New Comedy Award 2011. After winning his Manchester heat, Mark sailed through his semi-final round in Edinburgh and performed live on BBC Radio 2 at the final.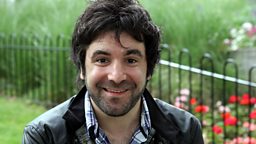 We caught up with him to find out how entering the competition affected his career, and what advice he'd give to this year's competitiors.
What were you doing before you entered the BBC New Comedy Award?
Before the NCA I was a sound editor for TV programmes, so now I'm the go-to guy for everyone who needs sound effects for their Edinburgh show, which I really don't mind…
Who are your comedy heroes and how have they influenced your stand-up?
I used to be a big fan of Eddie Izzard, Stuart Leigh and the other one that's really good… but I've taken none of their influences on board so er, things are really working out for me!
Tell us about your experience of the competition
In the heats and the semi-finals I did pretty well by my standards I think. In the heat especially, my microphone cable came out and I dealt with it really well because I've done loads of gigs where that's happened.
What advice would you give to this year's entrants?
I would say do your best stuff, for goodness' sake! Don't ponce around doing new stuff and ignore what everyone else is doing around you. Don't listen to what everyone is doing onstage and concentrate on your own stuff… and bloomin' well win it!
More from the BBC New Comedy Award