Meet the Presenters
Meet the presenters from How to Beat Pain, Greg Whyte & Jack Kreindler.
Greg Whyte
Professor Greg Whyte, a former international modern pentathlete, competed in two Olympic Games and is a European and World Championship medalist. He is an expert in the field of sports science, graduating from Brunel University; He furthered his studies with an MSc in human performance and completed his PhD at St. Georges Hospital Medical School. Greg is currently a Professor of Applied Sport and Exercise Science at Liverpool John Moore's University and at 76 Harley Street, London.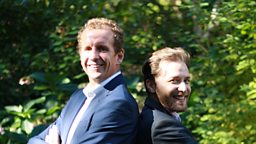 Greg is the preeminent authority on Exercise Physiology and Sports Performance and Rehabilitation in the UK. An internationally recognised expert in the field, Greg has extensive professional experience assessing, treating and improving the performance of athletes and sporting enthusiasts ranging from celebrities attempting their first mountain summit to Gold medal seeking Olympians.
Greg is well-known for his involvement in Comic Relief, since 2006 Greg has applied his sports science work to assist various celebrities in completing some of the toughest challenges. Greg has trained, motivated and successfully coached the comedian David Walliams to swim across the English Channel; James Cracknell to run, cycle and swim to Africa; Cheryl Cole, Chris Moyles and Gary Barlow to climb Mt. Kilimanjaro; Eddie Izzard to run a remarkable 43 marathons in 50 days and more recently Christine Bleakley to waterski across the Channel, as well as a whole team of celebrities, including Dermot O'Leary, to cross the driest desert in Africa. More recently for Sports Relief 2012 Greg was documented in the incredible Walliams vs. The Thames swim, this saw David Walliams along with Greg complete the 120 mile swim in just under 8 consecutive days. To add to this Greg successfully coached John Bishop in 'Bishops Week of Hell' this February that involved John cycle, row and run from Paris to London.
Greg is an intelligent and charismatic figure and twinned with his knowledge and experience of both coaching and participating in ultra-endurance sporting events, Greg can give an exciting and awe-inspiring perspective into what it means to participate and succeed in any challenge an individual or team may face. He is now becoming the go-to man for all things sports science which has generated vast media attention in the past few years and he is steadily becoming a well-recognised face across the globe.
Jack Kreindler
Dr. Jack Kreindler MB BS, BSc (Phys), Dip Mnt Med is a high altitude medic, physiologist and enthusiastic mountaineer with a parallel career in health information technology. Jack got his first job with Douglas Adams building The Hitchhikers' Guide online to pay his way through medical school. At the heart of all his work is Jack's drive to improve health outcomes and economics combining health science with personalised medicine and information technology, to better tackle our biggest health problems. He is Treasurer of the National Obesity Forum and has been a medical consultant to organisations such as Sport Relief, BBC Top Gear, The FA, and the award winning film The Mountain Within. Jack's mission is to help the most unlikely people overcome their greatest challenges, medically and physically, change the way health is communicated and to avoid falling off mountains too often.